'US can't decide for the world': Rouhani rejects Pompeo's Iran demands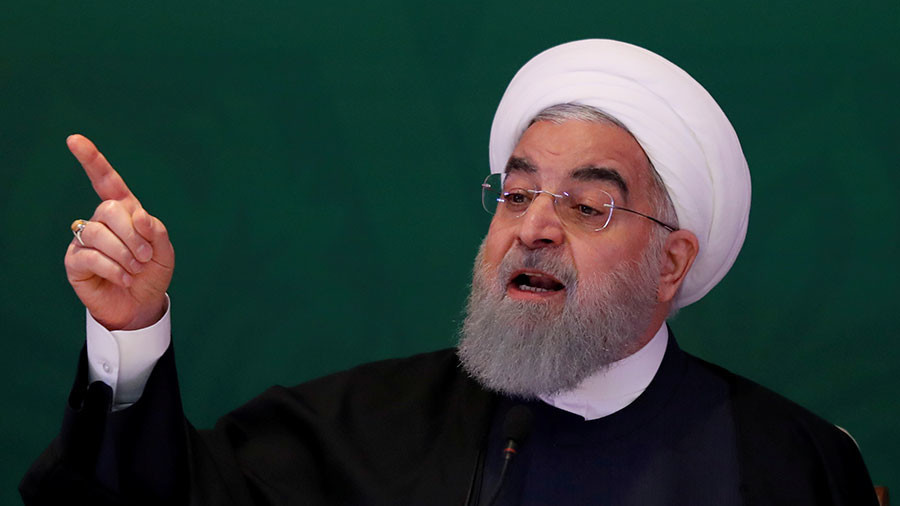 Iranian President Hassan Rouhani has rejected demands made of Tehran by US Secretary of State Mike Pompeo, vowing to continue "our path," insisting that the era when the US could "decide for the world" is over.
The US government has regressed 15 years, back to "Bush Jr.'s era" and is once again trying to dictate its will on the entire world, Rouhani said as he rejected Washington's Monday ultimatum.
READ MORE: 'Strongest sanctions in history': Pompeo issues 12 demands to Iran, vows 'unprecedented pressure'
"Who are you to decide for Iran and the world? The world today does not accept America to decide for the world, as countries are independent ... that era is over ... We will continue our path with the support of our nation," Rouhani said, as quoted by ILNA news agency.
Pompeo's speech signaled a huge step back for the whole foreign policy of the US, Iranian Foreign Minister Javad Zarif said on his Twitter page.
"US diplomacy sham is merely a regression to old habits: imprisoned by delusions & failed policies—dictated by corrupt Special Interest—it repeats the same wrong choices and will thus reap the same ill rewards. Iran, meanwhile, is working with partners for post-US JCPOA solutions," Iran's top diplomat tweeted.
Pompeo rolled out the 12 "basic requirements" for Iran in a Monday speech at the Heritage Foundation, a right-wing Washington think tank. He threatened that failing to meet them would result in sanctions which would ultimately destroy Iran's economy.
The list not only urged Tehran to permanently shut down any nuclear-related programs, but also to give up its regional policy. Pompeo called on Iran to halt missile development, "release all US citizens," withdraw from Syria, and cease support for groups which the US considers to be "terrorist," namely Hezbollah.
Think your friends would be interested? Share this story!