Head of Russian Audit Chamber bursts into tears when summing up her work before parliament (VIDEO)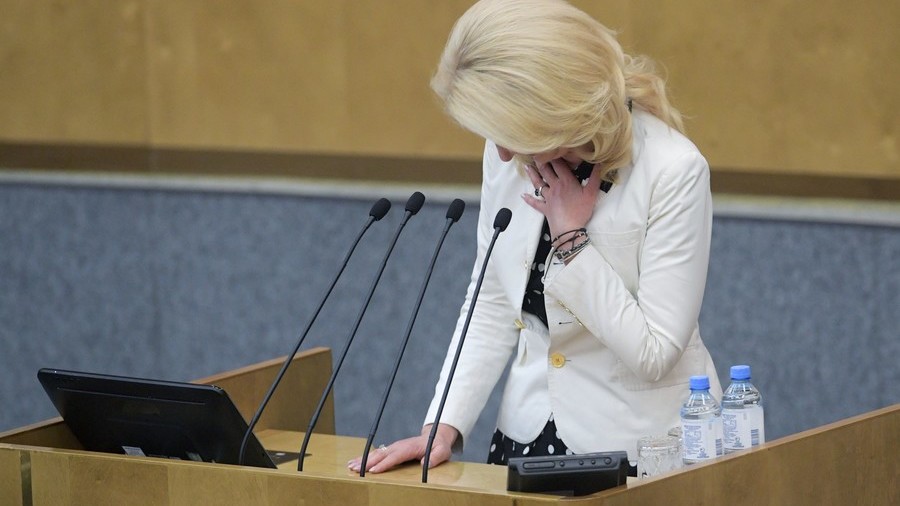 Tatyana Golikova, who has been offered the post of deputy PM in charge of social policies, has burst into tears during the parliamentary session which approved her resignation as the head of the Audit Chamber.
"All our efforts were targeted at maximum saving of the state resources. If you take a close look at our reports you will see that over the given period 42.4 billion rubles were returned to the state budget. If you divide this sum by the number of people who work in the Audit Chamber you will get 38 million, I think there are few federal agencies that can boast similar results," Ms Golikova said as she addressed the State Duma on Thursday.
"It is difficult for me to talk. In the end I want to say that I am grateful to the auditors and staff of the Audit chamber," the official added as she could not hold back her tears.
President Vladimir Putin has proposed to relieve Ms Golikova of her duties as the head of the Audit Chamber after Prime Minister Dmitry Medvedev announced that he would like to see her as deputy PM in charge of social policies in the new government. On Thursday the State Duma voted to support the move.
Russian mass media reported earlier that the head of the influential think-tank Center for Strategic Research, Aleksey Kudrin, had accepted the proposal to become the new head of the Audit Chamber, but the appointment still has to be approved by parliament.
Kudrin was Russian Finance Minister between 2000 and 2011 and received several international awards for his work, including the "Finance Minister of the Year 2010" prize from Euromoney magazine. However, in 2011 Kudrin left the government after a public row with then-Prime Minister Dmitry Medvedev.
Like this story? Share it with a friend!
You can share this story on social media: