Legalization of polygamy not being discussed in Chechnya, Kadyrov says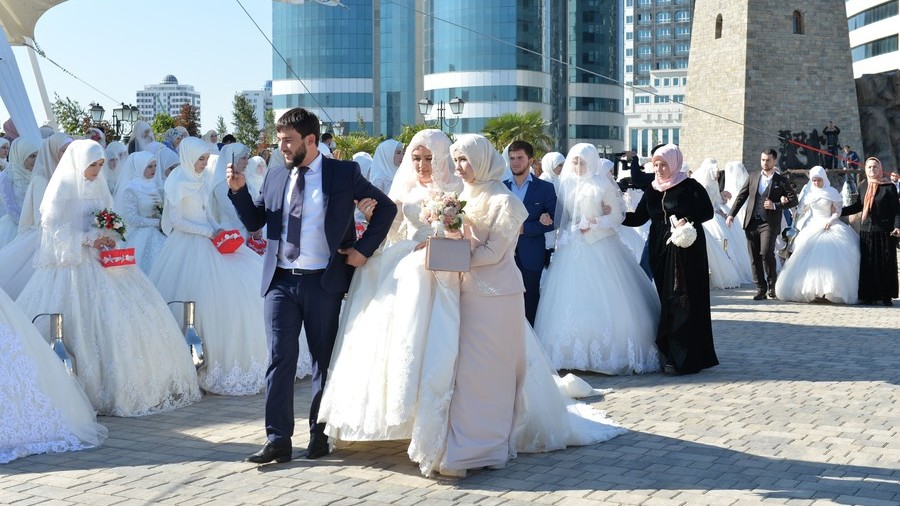 Chechen leader Ramzan Kadyrov has dismissed reports that the region could soon legalize polygamy, but added that Islam already allowed Muslim men to have four wives.
In an interview with the Rossiya 24 television channel, Kadyrov denied ever saying that lawmakers in Russia's Chechen Republic were preparing bills that would introduce polygamy in the region.
"No, I have never said this. But it is not me who should give such permission to a Muslim person. The Almighty has already given permission [for men] to have four wives," he said.
"It is not discussed on the legislative level, but when a man loves a woman he must marry her and support her. We are not suggesting that he takes her to the registry office and register their marriage. He can call her what he wants, but according to our religion she will be his lawful wife," Kadyrov said.
"The registry office, however, is the first step taken within the law to destroy the family," Kadyrov said, explaining that the need to have a document certifying a marital union was the first sign of a lack of trust between a man and a woman.
It was not the first time Kadyrov has publicly advocated de facto polygamy and criticized the institute of civil marriage. In a 2010 interview with RT, he said that the Muslim tradition of polygamy reduced sexual promiscuity and prostitution. In 2017, he again told RT that he personally saw the situation when a married man has a mistress as much worse than polygamy. "Is it normal for a family man? To cheat on his wife, on his family, to provide for his lover separately and cheat on everyone? And in case he chooses to make the relations legal and makes his lover his second wife under Islamic law, this will be a violation of the secular laws," he said.
Kadyrov's own marriage took place in 1996. He and his wife remain together and have 12 children, two of whom were adopted in 2007.