Russia's Kadyrov Foundation provides aid to Rohingya refugees in Bangladesh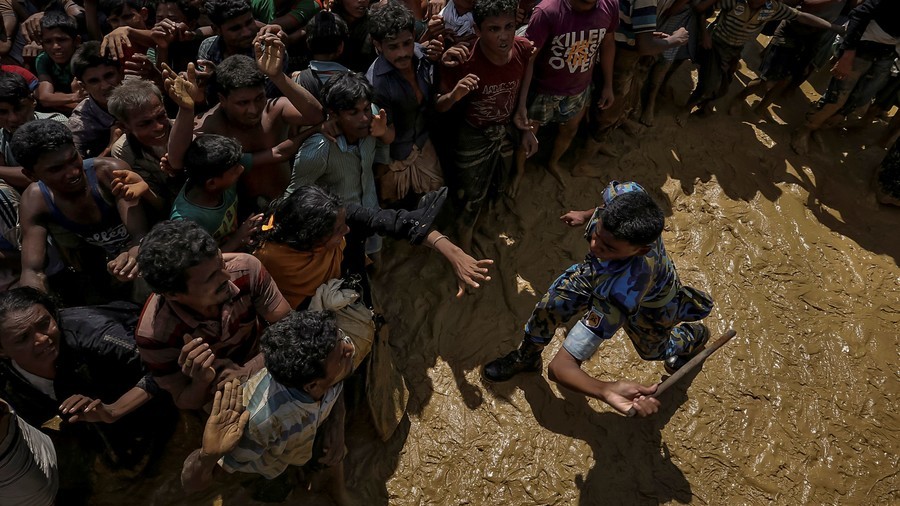 Russian NGO "Akhmat Kadyrov Regional Public Foundation" has unveiled a major operation to help Rohingya Muslims who fled from Myanmar to Bangladesh fearing repression.
"The regional public foundation named after Russian hero Akhmat-Haji Kadyrov is rendering large-scale humanitarian aid to refugees from Myanmar. In a refugee camp in Bangladesh, we have completed works to drill and equip 20 wells that provide refugees with water," read a report published on the website of the head of the Chechen Republic on Tuesday.
"Thanks to the foundation, refugees in the camp can have school classes, there is a working kitchen that provides kids with two free meals every day," the statement read.
Leaders of the group also promised to send a delegation to Bangladesh in May in order to study the situation with refugees and assess the necessary amount of additional aid.
The Akhmat Kadyrov Regional Public Foundation was launched in 2004 in memory of Akhmat-Haji Kadyrov, the former Chechen president and father of the current head of the Chechen Republic Ramzan Kadyrov. The group is headed by Akhmat Kadyrov's widow Aimani. In recent years, it has repeatedly delivered humanitarian aid to various regions affected by armed conflicts, such as Somalia and Syria.
The crisis concerning Rohingya Muslims developed around August 2017, when mutual violence prompted tens of thousands of Rohingya to flee from Myanmar to neighboring Bangladesh. The Myanmar government accused Islamist insurgents of attacks on military bases and the civilian population, but international human rights groups claimed that the accusations were a part of a disinformation campaign through which the young Myanmar democracy wanted to force the Rohingya out of Rakhine province. They also accused Myanmar's leader, Nobel Peace Prize winner Aung San Suu Kyi, of inciting anti-Rohingya sentiment and tarnishing humanitarian aid workers in internet statements.
Chechen leader Ramzan Kadyrov, known for his strong pro-Muslim position, has spoken in support of the Rohingya since the very beginning of the crisis. In September 2017, he asked his supporters to show solidarity with fellow Muslims in Myanmar and blasted world leaders for their failure to condemn the Myanmar authorities for what he called the "elimination" of the Rohingya from the country.
About a million people (according to the police estimates) answered Kadyrov's call and attended the pro-Rohingya rally in the Chechen capital Grozny.
You can share this story on social media: