'None of the above' candidate asks Supreme Court to remove Putin from presidential race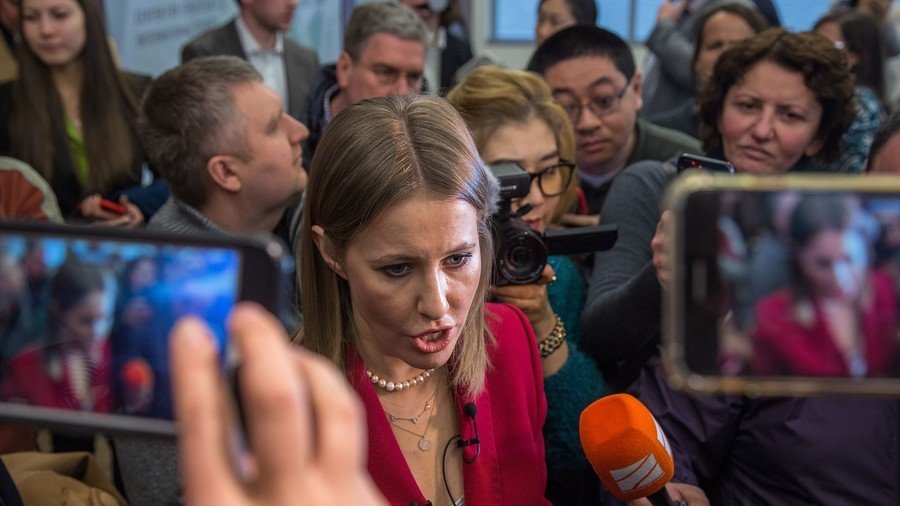 Ksenia Sobchak has asked the Supreme Court to annul Vladimir Putin's registration as a candidate in the March presidential elections, alleging the incumbent is violating legal term restrictions.
Sobchak is running on the ticket of the minor political party Civic Initiative, but is positioning herself as an option for those who would prefer to fill the no-longer-existing 'none of the above' line on the ballot papers.
In her letter to the court, she claimed that Putin's candidacy should be annulled because he has already repeatedly occupied the post. She specified that Putin was elected president three times and also was acting president in early 2000, before he was first elected.
Sobchak also accused Putin and his longtime ally, Prime Minister Dmitry Medvedev, of alleged "conspiracy to grab the presidential post for their group for a long period of time or indefinitely." She was referring to the situation of 2008-2012 when Medvedev served as Russian president and Putin chaired the government. In the same letter, Sobchak said that this move was just a "castling."
Currently, the Russian Constitution allows the same person to run for the presidency for an unlimited number of terms on one condition – there can be no more than two consecutive terms.
Incumbent President Putin was first elected in 2000 and was reelected for a second term in 2004, but could not run again in 2008. He became prime minister under Medvedev. In 2012, the condition about consecutive terms was not applicable, so Putin ran in the election and won.
Sobchak's arguments have been previously used by various Russian opposition politicians. In one of the more recent moves, presidential candidate Pavel Grudinin – backed by the Communist Party of the Russian Federation (KPRF) – said that if elected he would reduce the limit on presidential terms.
"Not 'two consecutive terms,' we should get rid of the word 'consecutive.' The president must remain in office for two terms and no more. The word 'consecutive' must be removed [from the Constitution]," Grudinin said on Friday as he spoke to press in the city of Nizhny Novgorod, which the candidate is visiting on his campaign tour.
The deputy chair of the Central Elections Commission (CEC), Nikolay Bulayev, told Interfax that he was surprised by Sobchak's claim.
"This topic has been studied and discussed by everyone and it is surprising that Ksenia Anatolievna [Sobchak] has chosen to raise it again just now. Court verdicts have been passed and the answer is unambiguous: at present moment there are no restrictions that could prevent Vladimir Vladimirovich [Putin] from running," he said.
You can share this story on social media: