'Alternative communist' & 'none of the above' registered as Russian presidential candidates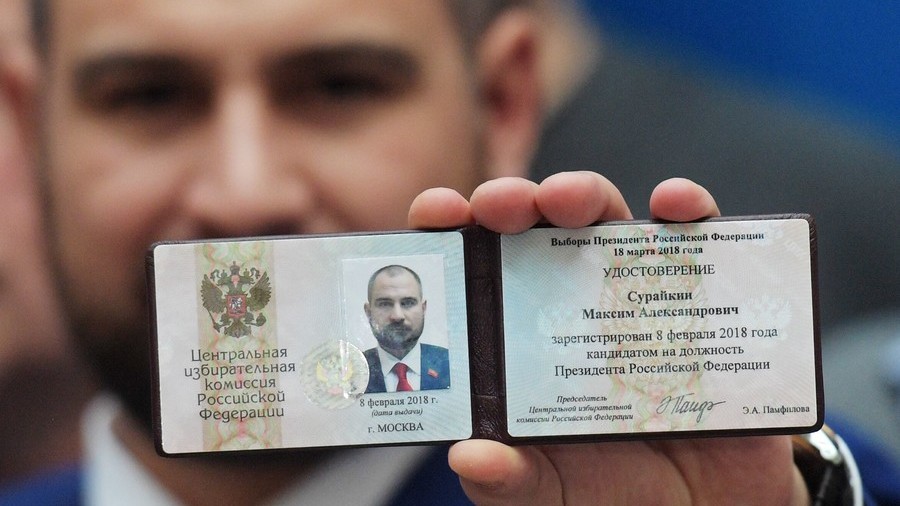 Russia's Central Elections Commission has issued candidates' certificates to Ksenia Sobchak, who earlier described herself as a protest candidate, and Maksim Suraikin, representing the radical leftist Communists of Russia party.
Both Sobchak and Suraikin are running as candidates from political parties with no parliamentary representation, which means they had to prove their popularity among voters by providing at least 100,000 signatures of citizens who support their nomination. This was done in late January and, after checking the signatures, the Central Elections Commission (CEC) gave the go-ahead to the two hopefuls. This brings the total number of presidential candidates to eight.
Sobchak is a Russian journalist, TV host and socialite who is running as a Civil Initiative party candidate, but presents herself as a "none of the above" candidate. Her stated objective is to give voters who cannot choose from any of the other candidates the opportunity to express their feelings and political position. She did not personally collect her candidate's certificate, because she is currently on a visit to the United States. She plans to meet US officials during her trip and explain that "it was wrong to punish Russia for actions of its leaders."
Suraikin is the leader of the Communists of Russia party – a relatively small, but extremely vocal group registered as a political entity in 2012. Communists of Russia have gained notoriety by issuing official comments on major world events in a tone that mocks the official statements of the Soviet times. In particular, they proposed jailing British rock star Sting for promoting marijuana and outlawing the movie 'Avatar' for abusing Soviet sci-fi authors. They also tried shaming actress Olga Kurylenko (a Ukrainian) for her role as a Bond girl or, as they put it "the girlfriend of a man who has killed hundreds of Soviet people, Cubans, Vietnamese, Koreans, Chinese and Nicaraguans."
Russia's largest opposition party – the Communist Party of the Russian Federation (KPRF) – has previously described the Communists of Russia as a spoiler project aimed at diluting the leftist electoral base.
With Sobchak and Suraikin registered, the overall number of candidates in the race has reached eight – the maximum amount predicted by CEC chief Ella Pamfilova in early February. The other contenders are incumbent President Vladimir Putin, an independent; the head of the Russian Liberal Democratic party Vladimir Zhirinovsky; the founder of the liberal Yabloko party, Grigory Yavlinsky; Business Ombudsman and head of the Party of Growth Boris Titov; veteran politician Sergey Baburin, running for the conservative nationalist All-Russian People's Union; and farm magnate Pavel Grudinin, who is backed by the KPRF, despite not being a member.
Research released in early February by state-run VTSIOM showed a majority of Russian citizens – 71.4 percent – intend to vote for Putin. Grudinin came in second with 6.9 percent and Zhirinovsky was third with 5.7 percent. The support for the rest of the candidates was around 1 percent each or even less.
You can share this story on social media: