Putin jokes he might become a combine driver if he loses the 2018 election (VIDEO)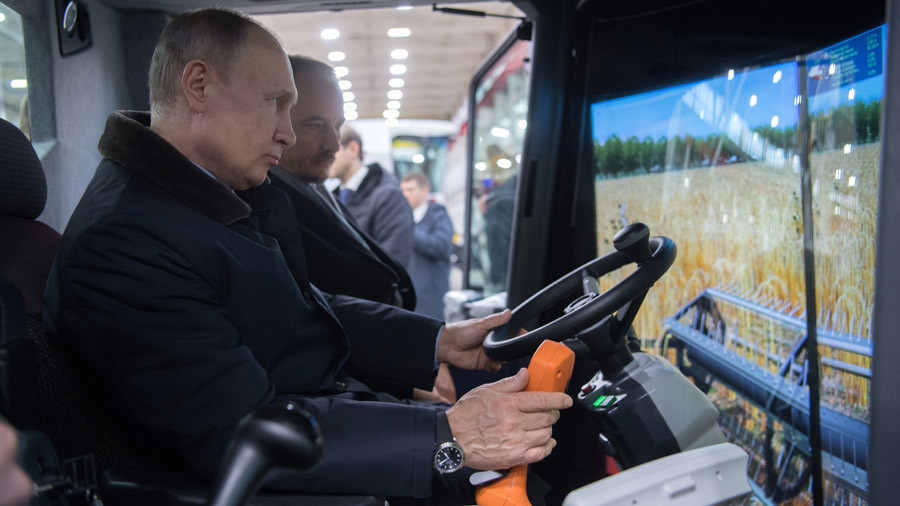 Visiting a Russian agriculture equipment factory, President Vladimir Putin said he may have found a new career path should he fail to win another term in office in this year's presidential election.
At Rostselmash, Russia's leading manufacturer of agricultural vehicles, Putin tried out a state-of-the-art simulator of the company's newest combine harvesters, designed to train operators in harvesting a variety of crops.
"If something [goes wrong], I'll start working as a combine driver after March 18," the Russian leader said, referring to election day.
Rostselmash CEO Konstantin Babkin seemed eager to hire the aspiring farmer. "No problem, no problem at all," he said.
Putin announced in December of last year that he will seek a new term in office. He is currently considered to be the frontrunner in the race.
READ MORE: 5 Putin LOLs from his annual Q&As
Earlier this week, he ridiculed the 'Kremlin List' composed by the US Treasury, which includes 210 people, including government officials and business leaders, but fails to mention the Russian president himself.
Asked how he feels about being left off the list, Putin, pretending to be offended, said: "It's a pity."
You can share this story on social media: