Life imprisonment for terrorist recruiters: Putin greenlights tougher law on extremism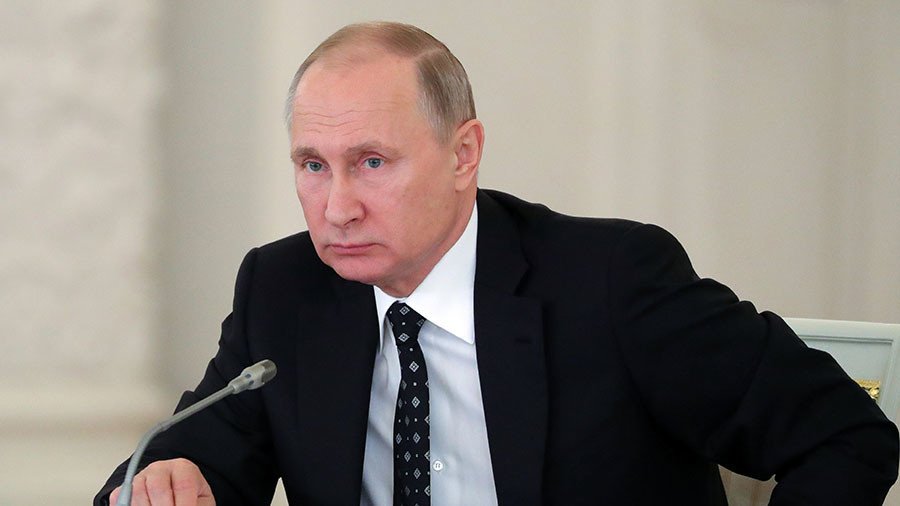 President Vladimir Putin has enacted legislation prescribing life sentences for terrorist recruiters as well as lengthy jail terms for those convicted on justification of terrorism.
Terrorist recruiters and contractors will now face severe punishments, ranging from at least eight years in prison along with heavy fines, to life imprisonment. Those found guilty of such crimes can be sentenced to life behind bars even if no one was killed as a result of their activities. Prior to the new legislation, the maximum penalty for such offenses was "only" 10 years of incarceration.
Apart from introducing lengthier prison terms, the new law also ushered into the Russian legal system a new concept termed "terrorism propaganda." It stipulates that people can be punished for spreading "materials or information, which forms [the] terrorist ideology of an individual." It's now also a crime to be a purveyor of terrorist ideas.
Spreading terrorist propaganda will result in the same punishment set for "terrorism justification" and "public calls for terrorism," which ranges from two to seven years in prison, depending on the platform used to spread the malicious material. Using the mass media to disseminate such caustic information, for example, would incur the heaviest penalty.
The bill was drafted in July and approved by both chambers of the Russian parliament since then. The law took effect in the aftermath of the blast in St. Petersburg Wednesday, when a homemade shrapnel filled device went off in a supermarket, injuring 13 people.
President Putin branded the blast a terrorist act, vowing to intensify the fight against extremists. He further urged law enforcement agencies to act decisively against suspected terrorists, especially those who violently resist arrest.
"I have instructed the director of the Federal Security Service… To act within the framework of the law during detention [of suspected terrorists.] But if there's a threat to a police officer's life and health, our officers need to act decisively, take no prisoners, kill the assailants on the spot," Putin said.
You can share this story on social media: