Russian presidential hopeful declares intention to abolish president's post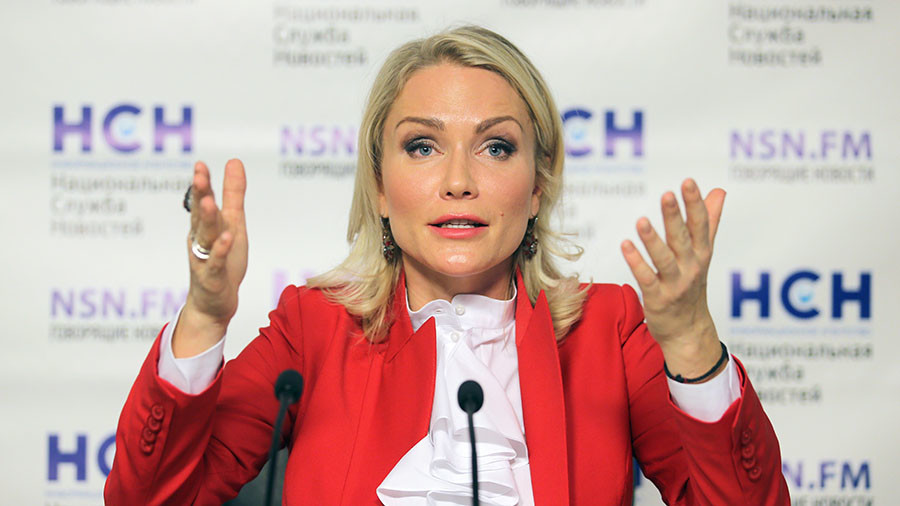 Russian journalist and singer-songwriter Ekaterina Gordon, who recently announced plans to take part in the 2018 presidential race, said that once elected she would abolish the presidential post and make Russia a parliamentary republic.
At a Tuesday press conference, Gordon told reporters she considered it "unwise, strange and dangerous" to live in a country where, she says, everything depends on just one person – the president. To address the situation she proposed starting a nationwide discussion on the possibility of changes to the basic structure of the Russian state.
"I want to abolish the post of the president and turn to a really democratic system, start talking about creation of a parliamentary republic," she said.
Gordon emphasized that she has nothing against Vladimir Putin personally, as the country achieved a lot during his presidency, but said that one man cannot control all processes in the country. Besides, if Putin decides to run next year and wins by the end of the term he will be over 70 years old.
She outlined the basic principles of the desired political reform as radically increasing the powers of the parliament, making the government ministers report to the State Duma instead of the president and also to make the State Duma "working." However, she did not go into detail.
The presidential hopeful concluded by stating that she would like voters to support her candidacy not as a future president of the country, but as a promoter of the transfer to a parliamentary republic.
When, in late October, Gordon first declared her intention to participate in the 2018 presidential race, she said that her whole presidential program would be built around the issue of children's and women's rights and become "a voice for women whose rights have been violated." She named her campaign's website Gordonzabab.ru (roughly meaning "Gordon for women") and chose "The rights of women and children are a mirror of Russian reality" as the main elections slogan.
Another Russian woman with presidential ambitions, ex-socialite and journalist Ksenia Sobchak, also supported the idea of Russia becoming a parliamentary republic on Tuesday. However, instead of abolishing the presidency, Sobchak proposed to dissolve the Duma as a first step towards the desired changes.