Ex-PM Kasyanov urges coalition with other opposition figures, eyeing presidential polls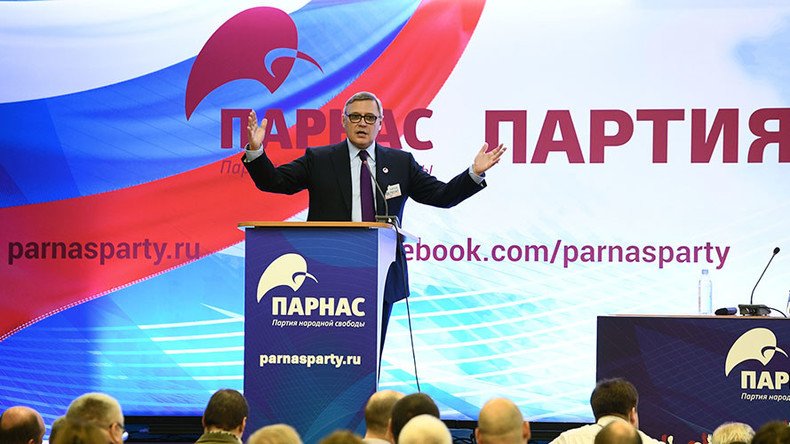 Former Russian PM and the head of the opposition Party of People's Freedom, Mikhail Kasyanov, has urged other opposition figures of pro-market and libertarian orientation to form a coalition and propose a single presidential candidate.
In a statement released by the Party of People's Freedom (PARNAS) earlier this week, Kasyanov wrote that the Russian Federation needs a "radically new political course based on the constitution" and that the opposition parties and movements must concentrate on explaining the importance of democratic values to Russian citizens. He said the best way to achieve this goal is to unite the pro-market opposition into a single movement that would later choose and propose a single candidate for the 2018 presidential elections.
"We think that the following people could potentially become members of such coalition: Ksenia Sobchak and her team, Grigory Yavlinsky and his Yabloko party, PARNAS itself and other organizations from the democratic side of the political spectrum, such as the Civil Initiative, the Democratic Choice, Libertarians and the Solidarity movement," the statement read.
The document also suggests that the coalition members would propose their own candidates for the presidential polls. If the Central Elections Commission registers more than one of them, a single candidate would be chosen in accordance with some procedure that needs to be developed and approved ahead of the issue arising.
It should be noted that at least two figures mentioned in PARNAS's address have previously made statements that contradict their supposed intent to join any coalition. Aleksey Navalny has called upon his supporters to boycott the elections if he is not registered as a candidate (which is against the law because he has not yet served a suspended sentence) and Ksenia Sobchak said in her program statement that her objective was not to win the race, but to replace the 'none of the above' option in the ballots, which she personally favored.
Several politicians, activists and simply popular figures have already announced their intention to run in next year's presidential elections. They include Liberal-Democratic Party leader Vladimir Zhirinovsky and Yabloko Party founder Grigory Yavlinsky. The parliamentary majority party, United Russia, and the largest opposition party – the Communists – have not yet announced their decisions concerning candidacy for the elections – nor has President Vladimir Putin.
You can share this story on social media: