Over 90 percent of citizens say new revolution in Russia unthinkable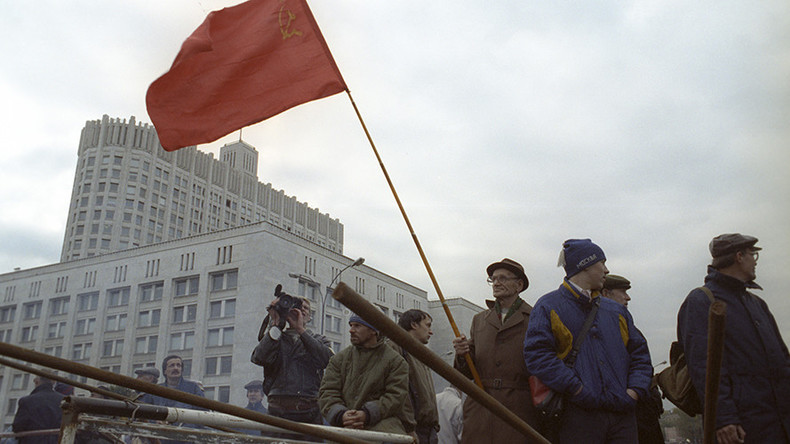 92 percent of Russians hold the view that everything possible should be done to ensure nothing like the 1917 Bolshevik revolution happens again, according to a recent poll conducted by state-run public opinion research agency VTSIOM.
This share of 'counter-revolutionaries' among the Russian public is up from 78 percent five years ago. Only 5 percent of respondents told researchers that they considered a new revolution necessary (13 percent in 2012). 3 percent of respondents said that they had no opinion on the issue.
In the same poll, 42 percent of respondents could not say what the objectives perceived by the Bolsheviks and their allies were in 1917. 19 percent said that the revolutionaries wanted to overthrow the government and change the Russian political system and 13 percent opined that they wanted to change life in the country for the better.
Still, 46 percent of the public agreed with the statement that the 1917 revolution was in the interests of the majority of Russians. 13 percent hold that the revolution benefited a minority and 33 percent said that only a small group of people managed to gain anything from the events of 1917.
38 percent of Russians currently think that the 1917 Revolution was a major stimulus for the social and economic development of the country. 23 percent agreed that the revolution "had opened a new era in Russia's history." At the same time, 14 percent of the poll participants said that the revolution had seriously impeded the development of Russia and 13 percent called the events a total disaster. 12 percent remained undecided over the role that the revolution had played in the Russian history.
At a mass media forum held in April 2016, President Vladimir Putin asked reporters to work honestly and openly so that their efforts do not result in yet another revolution.
"It is symbolic that we gather here in St. Petersburg again. Why? [Because] St. Petersburg, or Leningrad, has come to be known as the City of Three Revolutions. I hope that the result of your efforts will be not a fourth revolution but, on the contrary, you will work honestly and openly and contribute to the natural, correct and just balance of interests in our society," Putin said.
In April this year, independent Russian polling agency Levada reported that the proportion of Russians positively disposed towards Vladimir Lenin's policies jumped from 40 percent in 2006 to 56 percent. The pollsters also asked the respondents to evaluate the role of the Bolshevik leader in the history of Russia, and 26 percent said that Lenin will live on in people's memory but no one will follow in his footsteps. Another 23 percent said that Lenin led the country to progress and equality, while 21 percent answered that his ideas were distorted by his followers.
You can share this story on social media: