Putin's approval rating slightly down from early Sept, still over 80%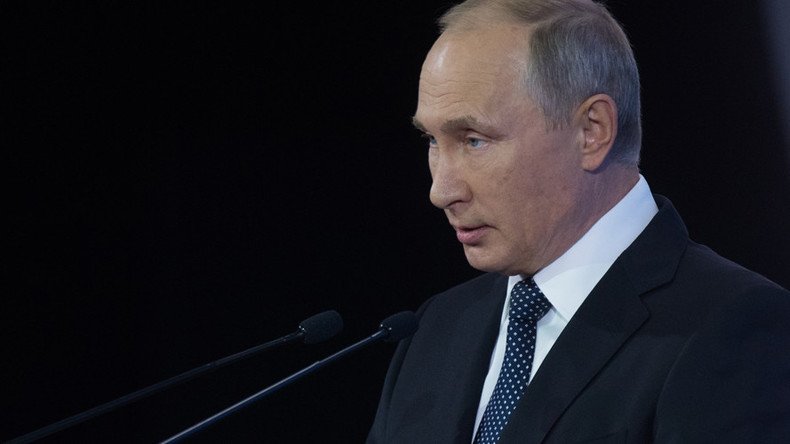 Over 82 percent of Russians approve of Vladimir Putin's work as the nation's president, according to the poll conducted by the state-run VTSIOM agency in late September.
"The approval rate of the president's work remains extremely high despite an insignificant drop in September – from 85.3 percent to 82.2 percent in mean values by week," reads the VTSIOM report. The agency added that the proportion of respondents who said they disapprove of the president's activities increased from 9 percent in early September to 10.6 percent at the end of the month.
The assessment rating of the government's work was also slightly down in September, according to VTIOM's poll – from 59.8 percent in the beginning of the month to 58.7 percent in the last week of September. Prime Minister Dmitry Medvedev's personal rating fell from 54.3 percent to 53.6 percent.
The number of Russians who claimed that they approved of the parliament's work was on the rise, VTSIOM specialists wrote. However, as these parameters were measured only once a month it was impossible to give precise dynamics. The share of Russians who approve of the work of the lower house – the State Duma – was 53.2 percent, while 59.7 percent of respondents claimed they approved of the work of the upper house, the Federation Council.
A public opinion poll conducted by the independent Levada Center in July showed that 66 percent of Russians wanted Putin to remain the leader of the nation after the 2018 presidential election, with 40 and 56 percent of respondents reporting satisfaction with the current course in domestic and international politics respectively.
A similar poll conducted by Levada in early May showed that back then 64 percent of Russians wanted Putin to remain president for another term, while 22 percent wanted him replaced.
Putin has not yet announced his plans concerning the 2018 presidential elections. When he faced the question again at the 'Direct Line' annual Q&A session in mid-June this year, he said it was "too early" to discuss the issue.
On Wednesday this week Putin again faced the question if he intended to run for a new term and again his answer was that he had not yet made the decision.
"No, I have not yet decided not only if I want to run against someone in particular, I have not decided if I will run at all," Putin told the participants of the Russian Energy Week Forum.
"The presidential campaign will be announced in late November or early December. I think that leading candidates will announce their participation and publish their elections programs," Putin said.
You can share this story on social media: