Russian parliament blasts new Ukrainian language law as violation of European Charter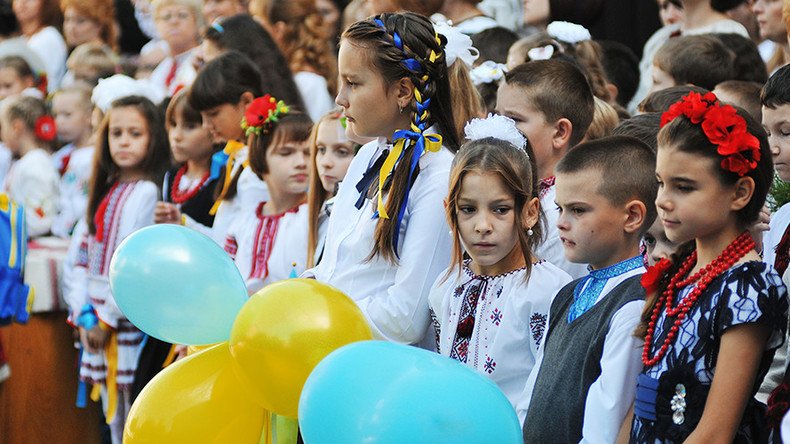 The Russian State Duma has passed a statement denouncing the new Ukrainian ban on teaching in Russian and other minority languages as discrimination and a violation of the European Charter for Regional or Minority Languages.
"The Ukrainian law on education introduces a de-facto ban on getting an education in any language except Ukrainian. It is not a coincidence that the new law has no mention of Russian or other languages used by the peoples of Ukraine. Apart from the official language – Ukrainian – the law only has some regulations concerning teaching in English," according to the text of the statement published on the parliament's website.
The new law constitutes an act of forced Ukrainization that bluntly violates the European Charter for Regional or Minority Languages, which was ratified by Ukraine, the State Duma lawmakers wrote.
The law has already caused harsh but justifiable reactions from nations neighboring Ukraine, such as Hungary, Poland, Moldova, and Romania, according to the draft. "The reaction to these nations' statements in Ukrainian political circles and mass media demonstrates how far this country, which seeks membership in the European Union, is from the European values that it is pursuing.
"The so called education reform in Ukraine is targeting primarily the destruction of the remains of Russian-language education with the full assimilation of Russian speakers being the main objectives," the statement reads.
"As they maintain the previous line in the language issue, the Ukrainian authorities again provoke the same situation and recreate the same reasons that had become a starting point for the development of the conflict and the civil war in southeastern Ukraine."
The Upper House of the Russian parliament has prepared a similar address.
Russian President Vladimir Putin's press secretary, Dmitry Peskov, told reporters on Tuesday that the Kremlin believes a number of provisions in the law are outdated and unfortunate. "We know that many provisions of this law are causing a very harsh reaction from a number of Ukraine's neighbors," he said.
In early September, the Ukrainian parliament passed a bill allowing various peoples and ethnic groups in Ukraine to be taught in their native languages in kindergarten and primary school up to the fifth year. This will remain in place until 2020, when all schools in Ukraine must switch to Ukrainian.
On Monday, Ukrainian President Petro Poroshenko signed the new bill into law.
You can share this story on social media: