Ukrainian nationalists disrupt public Russian language test in Kiev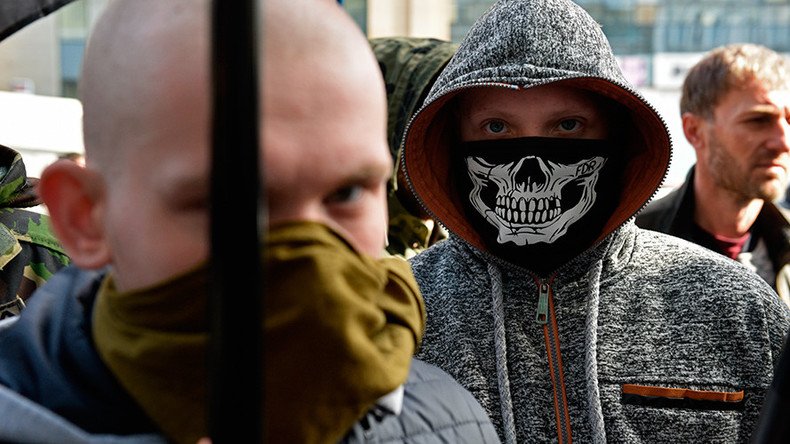 Dozens of radical Ukrainian nationalists blocked the entrance to the building of the Russian cultural institution Rossotrudnichestvo in Kiev, where a public Russian-language dictation was supposed to take place.
"The building was blocked by the far-right activists of the 'National corps' group, they called for physical violence," Interfax Ukraine quotes Svetlana Volynenko, a representative of the Russian agency – Rossotrudnichestvo – that organized the language test, as saying.
Around 50 activists came to the building, the official added, with security services preventing them from getting inside. The radicals then threw a chain on the gate to the building, and blocked the way with trash cans.
"Police arrived at the scene promptly, observed the events, and then tried to negotiate," Volynenko said. The blockade was then temporarily lifted, with the radicals promising to return and "take things under control."
"Why should they be in control?" Volynenko wondered. "Why are they blocking access? It's a violation of the Constitution."
'National corps' confirmed its activists were present at the scene.
Ultimately, Russian officials had to cancel the test, an employee of Rossotrudnichestvo said.
"They left, but we still have to cancel today's events," he said, as cited by RIA Novosti.
The 'Total dictation' is a worldwide campaign held every year since 2004, where anyone can have their Russian language skills assessed. This year, it takes place in 866 cities, located in 71 countries – including the US, Spain, China, Australia, and even the Antarctic. The event is organized by Rossotrudichestvo.
You can share this story on social media: