Ukrainian extremist mob pelts Russia Cooperation office in Kiev with flares & smoke bombs (VIDEO)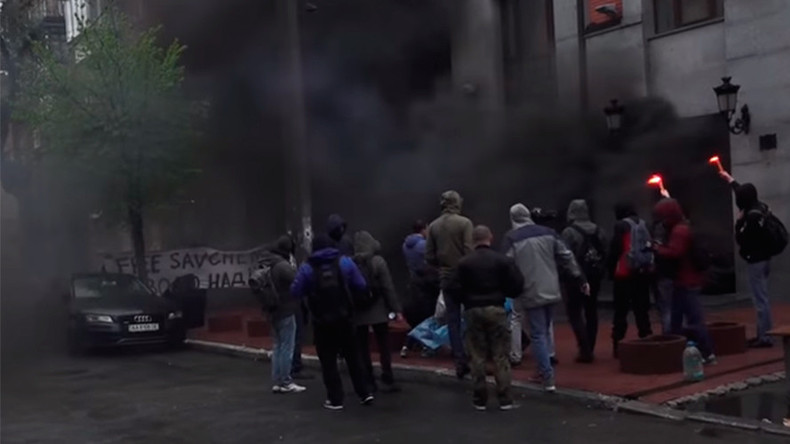 A group of radical Ukrainian youths have bombarded the office of Russia Cooperation mission in Kiev with flares and smoke grenades, while attempting to burn stacks of tires in protest against the conviction of Nadezhda Savchenko, accused of killing Russian journalists.
Over a dozen of protesters from the Right Sector extremist organization and C14 nationalistic movement besieged Kiev office of the Russian State Agency for Cooperation with CIS countries (Rossotrudnichestvo) on Friday. During the action, the youth chanted "Freedom to Savchenko", "Down with the empire" and "Death to Russia!"
"About 15 people held a rally near the building of Rossotrudnichestvo," representatives of the diplomatic mission told Russian news agency Interfax. "They brought tires, threw smoke bombs at the center, and fired flares."
Smoke quickly filled the perimeters of the building. Hoverer, as protesters began to set tires on fire, Ukrainian police units arrived and scared off the crowd, who had been demanding the release of Savchenko, who has been sentenced in Moscow for her involvement in the killing of Russian journalists.
In a Facebook post, Right Sector has blamed the Rossotrudnichestvo, which strictly deals with the promotion of Russian language and culture and aiding Russians who live abroad, of housing spies and members of special forces. The protest, the radical organization claims, was a showcase of the "righteous wrath" of the ultra-nationalists against the alleged Russian agents.
"The campaign will be continued in unexpected and interesting formats. It will be fun and effective," the group promised on Facebook.
In March, Russia found Savchenko guilty of killing two Russian journalists near Lugansk, in eastern Ukraine, and sentenced her to 22 years in prison.
According to prosecutors, she relayed the coordinates of a checkpoint where two Russian journalists were subsequently killed by the Ukrainian Aidar battalion artillery fire near Metalist, Ukraine, in June 2014. The attack also resulted in the deaths of Ukrainian civilians.
After that Savchenko illegally crossed the border into Russia and was caught by security services. The Ukrainian government however claims Savchenko is a prisoner of war and should be released under current truce agreements in eastern Ukraine.