MP seeks tougher punishment for false terrorism reports after wave of evacuations across Russia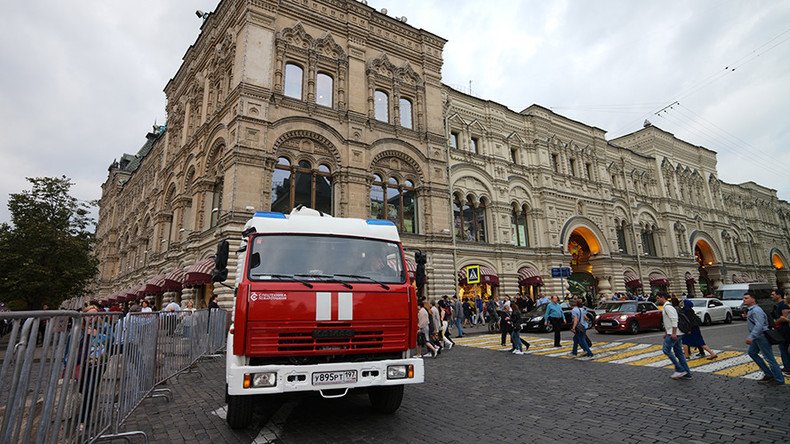 A Liberal Democratic Party MP has proposed making false reports of terrorist attacks equal with providing assistance to terrorists. The move came soon after a wave of bomb threats caused mass evacuations all over Russia.
"When a wave of false bomb threats hit our country two years ago, our party not only proposed, but actually drafted, a bill that tightened the responsibility for this 'telephone terrorism' with a raise in monetary fines and an extension of prison terms. Yet nothing was done. Two years ago it was a test that has developed into events of larger scale this year that you all could witness," Mikhail Degtyaryov told fellow MPs on Friday.
"We again ask all law enforcement agencies, all parliamentary caucuses and the government: let us again take measures that would toughen the responsibility for 'telephone terrorism'," he added.
"Maybe, we can even make such behavior equal to assisting terrorists, because when they cause response from emergency services and law enforcement agencies real terrorists can witness this. They can learn response time and evacuation routes," he said.
Presently assisting terrorist activities, including sponsorship of terrorist organizations, is punishable by up to 20 years in prison, but suspects can evade it completely if they voluntarily report the plans of attack and help to effectively prevent it.
Earlier in the week, a wave of anonymous phone calls across Russia caused evacuations of over 130,000 people from over 420 sites. Not a single threat has proved to be true, but still the estimated combined damage from the disrupted work of various organizations and transport amounted to about 1 billion rubles ($17.2 million), according to deputy chair of the State Duma Committee for Defense, Yury Shvytkin (United Russia).
Sources in law enforcement agencies have told RIA Novosti that investigators did not rule out that the people who made the false calls were connected with the Islamic State (IS, formerly ISIS). They also added that the calls were made from outside Russia but nevertheless some actual perpetrators were established and will soon be put on international wanted lists.
On Friday afternoon, Kommersant daily reported that several people had been detained in Russia for making false reports of planned terrorist attacks via telephones or on social networks.
However, Kommersant's sources said that all of the detained were teenagers who apparently were provoked into such actions by earlier false calls from abroad.
You can share this story on social media: