'Cesspool of terrorism:' Crimean leader blasts Ukraine for escalating tensions near border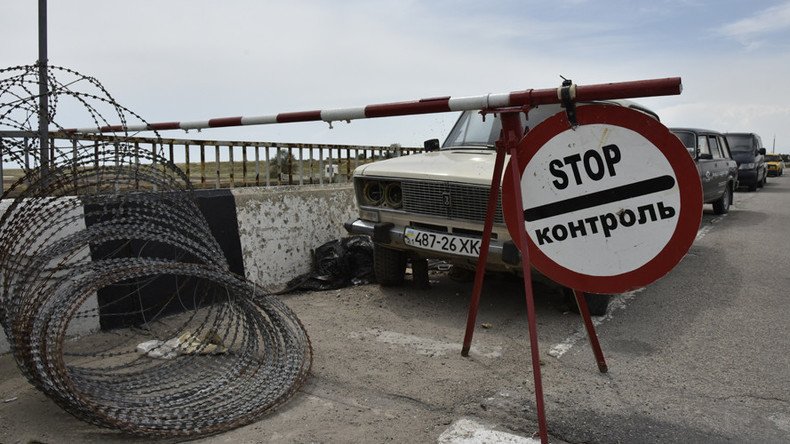 The head of the Crimean Republic says that Kiev deliberately undermines peace by deploying units manned with nationalist radicals near the border. He added, however, that the situation in Crimea is calm and controllable.
"They have placed gunmen from the Right Sector [an ultranationalist Ukrainian group outlawed in Russia] and the so-called Crimean Tatar Battalion near the Crimean border. The border regions have become a cesspool of extremism and terrorism," Sergey Aksyonov wrote on his Facebook page after attending a joint session of Crimean and federal counter-terrorism committees.
Aksyonov said that the situation in Crimea remains calm and controllable, but listed the military conflict in southeastern Ukraine and mass migration from these regions to Russia as the main challenges that security agents have to deal with.
In mid-August, Lenur Islyamov – a leader of the 'Mejlis of the Crimean Tatar People' group, which Crimea banned as extremist in April of last year – announced that he had founded a volunteer Crimean Tatar battalion for the purpose of capturing Crimea by military force. The Crimean directorate of Russia's Federal Security Service (FSB) has opened a criminal case regarding the move.
Also in mid-August, several top Crimean officials said that despite attempts of Ukrainian authorities to isolate the peninsula and damage its tourism-oriented economy, the flow of visitors has remained constant, with many of them coming from Ukraine.
The head of the Crimean Committee for Interethnic Relations, Zaur Smirnov, said that the Ukrainian government had ordered border guards to create artificial delays at transition points, forcing Ukrainians to spend hours at transition points at the Crimean border. He added that in the end this plan had failed, however, as the interest in Crimea among tourists is only increasing.
The Crimean Republic reunited with the Russian Federation in mid-2014, after over 96 percent of its population approved the move in a referendum. The decision was prompted by the ouster of the democratically-elected president of Ukraine in a violent coup in Kiev, and the installation of a nationalist-backed government that almost immediately declared war on the pro-Russia regions in the country's southeast, which refused to recognize the newly-imposed leadership.
You can share this story on social media: