Putin explains reluctance to reveal plans concerning 2018 presidential campaign
Published time: 5 Sep, 2017 14:04
Edited time: 7 Sep, 2017 09:05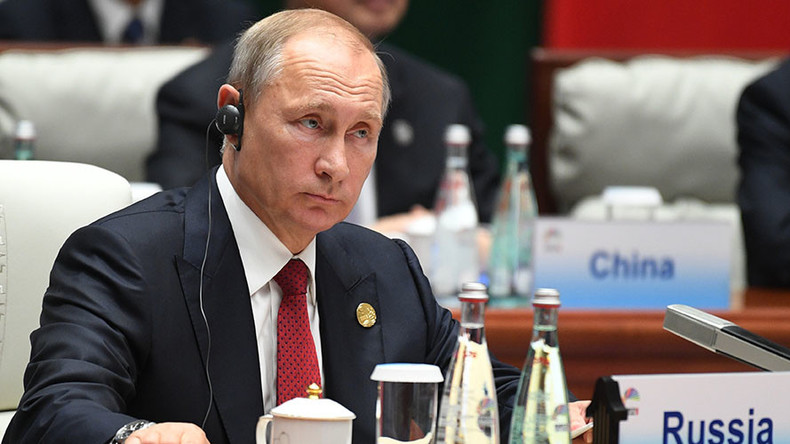 Vladimir Putin has said that he does not want to announce his plans concerning the 2018 presidential elections because this could paralyze all political and administrative work in the country.
"I have said it before and I can say it again – as soon as they announce election campaigns in our country, everyone immediately stops working. I know this firsthand," the Russian president told reporters at a press conference after the BRICS summit in China.
"This is because they all start thinking about what will happen after the elections, who will be working where. But we have to work right now, everyone in his place, be active and never let your attention get away from your field of work," Putin added.
"I am sure that those who want to participate in the presidential elections will announce this in the time that is set in the law."
The Russian Law on Elections reads that presidential candidates must submit their applications together with all necessary documents no sooner than 80 days and no later than 45 days before the election date.
The date for next year's presidential ballot has not been announced yet, but if not for some extraordinary events it is most likely to be set on March 18, 2018 which is the anniversary of Crimea's reunification with Russia.
So far, three Russian politicians have announced that they intend to run for the presidency – the founder of the liberal Yabloko party, Grigory Yavlinsky, the head of the nationalist LDPR, Vladimir Zhirinovsky, and anti-corruption activist Aleksey Navalny. The latter, however, is technically barred from running under Russian law because he is currently serving a five-year suspended jail sentence that will not expire before the next election.
The largest opposition party – the Communists Party of the Russian Federation (KPRF) – has not yet announced its candidate, nor has the parliamentary majority United Russia party.
Putin has repeatedly has faced questions about a potential next term, but he and his press secretary, Dmitry Peskov, have always said it is too early to discuss the issue. In early August, the president made a statement that the mass media perceived as a possible indication that he will run again in 2018.
Putin was answering a question from a group of villagers in the Siberian Republic of Buryatia via a TV link, organized during the president's visit to the eastern regions of Russia. A group of villagers asked him to register as a candidate in the next presidential elections and Putin promised that he would think about doing so.