Moscow court extends Navalny probation period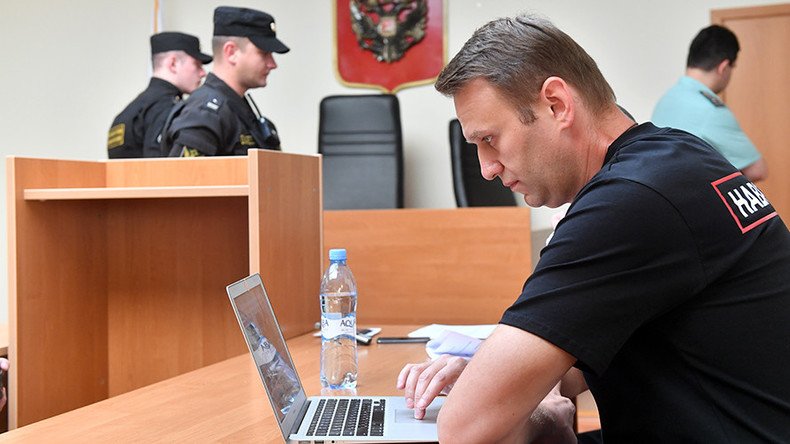 A court in Moscow has extended by one year the probation period in the sentence given to Aleksey Navalny for repeated violations of public order and refusals to comply with police officers.
In its Friday ruling, Simonovsky District Court satisfied the request filed by the Federal Service for Execution of Punishment – the branch of the Russian Justice Ministry that oversees prisons and penal colonies.
The service had pointed out that according to Russian law, a suspended sentence can be replaced with an actual one when the convict systematically violates public order, in particular, when he or she is convicted in civil cases twice or more within a period of one year.
Navalny has twice been convicted on civil charges in 2017 – in March he was fined for violating the rules of public events, and in mid-June he was sentenced to 30 days in custody for violating the law on rallies (the sentence was later changed to 25 days and Navalny walked free on Friday last week).
On Thursday this week, Navalny was also handed a 300,000 rouble (about $5,000) fine for violating the rules of organizing of a public event.
The Federal Service for Execution of Punishment had previously warned Navalny that it could ask the court to turn his suspended sentence into a custodial term.
The attorney representing Navalny in court on Friday told reporters that previously his client's suspended sentence was due to end on December 30, 2019, meaning that the prolonged probation period will end on December 30, 2020.
The information on the date means that the decision concerned the sentence Navalny received in late December 2014, after being convicted of embezzling over $500,000 from international cosmetics company Yves Rocher. Navalny's brother Oleg was sentenced to three and a half years in prison as part of the same case.
It is not the only suspended sentence that Navalny is currently serving. In 2013, he was given a five-year suspended term for a fraud scheme involving state-run timber company Kirovles.
Navalny said that he intended to appeal the decision to prolong his probation term and added that he would continue to prepare for the 2018 presidential elections. He also said that he expected the European Court of Human Rights to ask Russia to cancel the Friday court ruling.
Russian law bans people who are serving sentences from registering as candidates in presidential polls. However, Navalny, himself a trained lawyer, insists that the law should only apply to custodial sentences, not suspended ones.
In mid-June this year, the head of Russia's Central Elections Commission, Ella Pamfilova, said that Navalny had no chance of entering the 2018 presidential race because of the suspended sentence.
You can share this story on social media: