Navalny to seek participation in 2018 presidential polls – report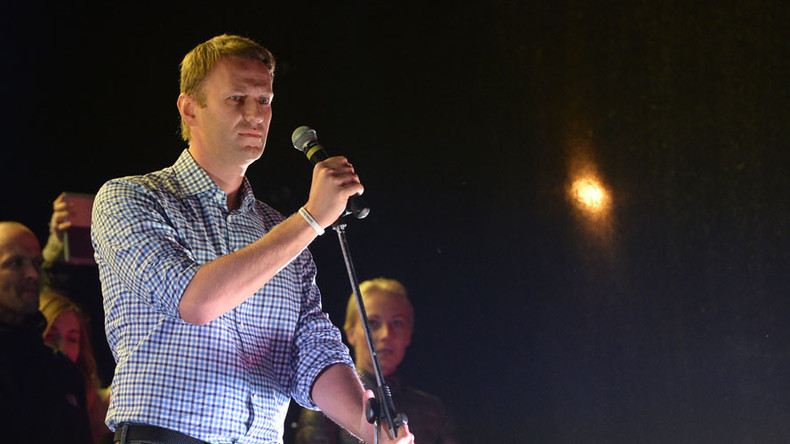 Anti-corruption blogger-turned opposition activist Aleksey Navalny has reportedly asked the Supreme Court to cancel his 2013 conviction of embezzlement so as to remove the legislative ban that prevents him from participating in the 2018 presidential race.
Popular Russian business newspaper Kommersant reports that Navalny has based his petition on a decision by the European Court of Human Rights (ECHR) in Strasbourg. The ECHR earlier ruled that Russian courts had violated the right to a fair trial in the so-called Kirovles case and established an alleged "connection" between the convict's anti-corruption activities and the charges pressed against him by the Russian Investigation Committee. The Strasbourg court also ruled that Russian judges had allegedly interpreted the Criminal Law in a free and unpredictable manner, hurting the interests of Navalny and another convict in the case and ordered the Russian authorities to pay the claimants over €87,000 (US$98,000) in damages.
At the same time, the ECHR refused to recognize Navalny's case as political.
The events of the Kirovles case took place in 2009. Navalny worked as a volunteer aide to then-Kirov Governor Nikita Belykh, dealing with reforms of regional industry (in June this year Belykh lost his post after being caught red-handed receiving a $446,000 bribe and is currently in pre-trial custody).
READ MORE: Governor of Kirov Region detained while receiving €400k bribe - Investigative Committee

Investigators found that Navalny ordered a local businessman, Pyotr Ofitserov, to set up an intermediary company and then persuaded the administration of the local state corporation Kirovles to sign a contract with this company on unfavorable terms. As a result, Kirovles allegedly made multimillion-dollar losses while the middleman company was making a profit.
The investigation lasted until 2013 and ended in Navalny's conviction and five years prison sentence, which was suspended with a fine of 500,000 rubles (about $15,000 at 2013 rate).
READ MORE: Anti-corruption blogger Navalny sentenced to 5 years behind bars for embezzlement

This year, a group of Navalny's lawyers addressed the Cabinet of Ministers of the Council of Europe (CE) with a claim that the Kirovles conviction had been a deliberate move aimed at depriving Navalny of opportunity to develop his political career through taking part in election. Russian law allows people convicted for serious crimes to run for presidency no sooner than 10 years after their sentence has been served and the conviction expires. In Navalny's case this means that he can pose as a presidential candidate no sooner than 2033. )
In their letter the lawyers also asked the CE's Cabinet of Ministers to apply pressure to the Russian authorities claiming that without such pressure the reopening of the case could become a "pure formality." They also said that only full acquittal could restore Navalny's allegedly damaged civil and political rights and urged the European body to act urgently.
Kommersant claims that the CE Cabinet will look into the letter in late September.
Navalny first voiced his presidential ambitions in a televised interview in April 2013. He described his main objective as changing life for the Russian people and making it "normal, like in some European country." When the reporters asked Navalny about the means through which he planned to achieve this he answered that it was "not to lie and not to steal."
READ MORE: Opposition blogger Navalny voices presidential ambitions amid dwindling support

In early September 2013, Navalny participated in Moscow mayoral elections and came second with about 27 percent of votes, while incumbent Sergey Sobyanin won with about 51 percent.
In late December 2014, Navalny received a suspended 3.5 year sentence in another criminal case – the court found him guilty of embezzling over $500,000 from the international cosmetics company Yves Rocher. Navalny's brother Oleg was sentenced to 3.5 years in prison within the same case.
You can share this story on social media: