United Russia MP denounces dye attacks on opposition as criminal violence
A lawmaker representing parliamentary majority party United Russia has describes recent attacks on opposition figures using green antiseptic dye as hooliganism and criminal violence, adding that the culprits should be found and punished.
"I unconditionally condemn and reject any violence and acts of hooliganism of such kind. I am confident that my party comrades also share this point of view," MP Evgeny Revenko wrote on his Facebook page.
"Incidents of this kind cause broad public resonance and I am deeply convinced that they hinder the development of the civil society, because [in this development] our objective is maximum openness, dialogue and mutual respect," he added.
Revenko wrote that, in his opinion, Russia currently has all the conditions for a civilized dialogue between various political parties and movements, and between the proponents of all political platforms and opinions.
"The right for free expression of opinions on any urgent subject is guaranteed by our Constitution. No one has the right to act against it. Instead of violence we must have dialogue, clash of opinions and discussion backed with valid arguments. Real action and creative agenda is what our voters expect from us," he wrote.
Read more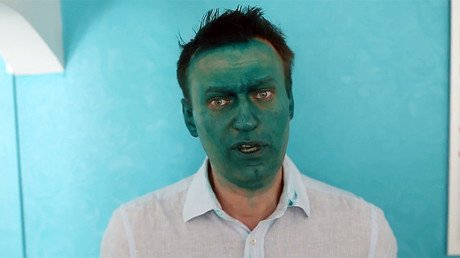 The comment came after a series of attacks on Russian opposition figures in which the assailants used the 'brilliant green' aniline dye that is broadly used in Russia as antiseptic and can be purchased from drugstores. The anti-corruption blogger turned political activist Aleksey Navalny suffered in two such incidents – one in mid-March and the other in late April.
No one has claimed responsibility for the assaults, but in a blog report on the first incident, Navalny wrote that his attacker had escaped to the local administration office, without specifying the source of this information.
Later the activist wrote in his blog that he was convinced that the Presidential Administration was at least at some extent involved in these attacks, but did not produce any solid evidence to back these claims.
Other Russian political figures who have suffered from attacks over the past two months include prominent blogger Ilya Varlamov, who also had brilliant green thrown at him, and Communist Party MP Sergey Shargunov – unidentified malcontents set fire to his Moscow apartment.
An activist of the opposition liberal party Yabloko, Natalya Fedorova, reported that an unidentified person threw some chemical solution in her face, affecting her eyesight. In all cases the attackers got away and no one claimed responsibility or put forth any political demands.