United Russia party signs cooperation agreement with Italy's Lega Nord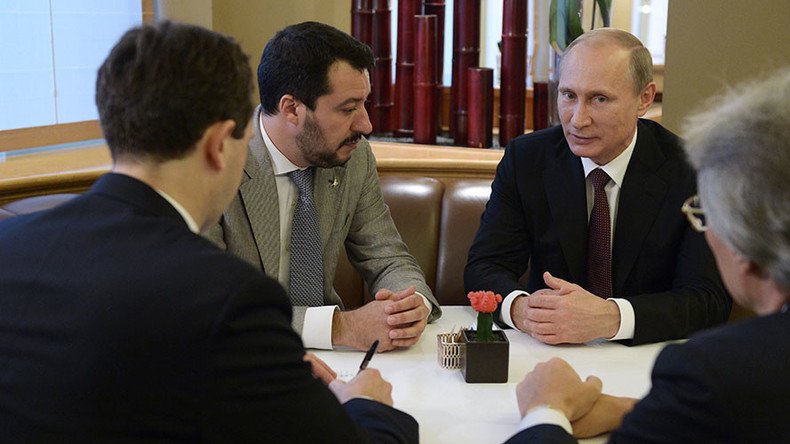 Russia's parliamentary majority United Russia party and Italian Euroskeptics Lega Nord (North League) have signed an agreement pledging to promote peace and cooperation with respect to other nations' traditions and interests.
United Russia MP and the member of the State Duma International Relation Committee Sergey Zheleznyak told reporters about the agreement on Tuesday.
"We are confident that most problems that exist in Europe and in the world require dialogue, broad discussion and a search for solutions. In this, our parties can give an example to other political forces on what a responsible approach to realization of international cooperation should look like," Zheleznyak said.
He added that he was confident that Russian and Italian voters wanted to live in peace and safety and wanted to have an opportunity to work and cooperate with all nations and peoples without any damage to their own national traditions and interests.
"Russia is a neighbor to European countries. This makes it especially strange that Europe is not using the extensive unique experience in fighting terrorism that our country has accumulated. We're sure that it's important to exchange experiences in all important spheres and to step up cooperation with nations that conduct responsible policies in the sphere of security and bringing out their national potentials," he said.
Lega Nord is nationalist party that declares its primary objective as broader autonomy for the Padania region. The party is represented in the Italian parliament and has been a longtime ally of Silvio Berlusconi's Forza Italia.
Lega Nord members have repeatedly called for lifting the anti-Russian sanctions imposed by the EU, emphasizing that these measures inflict significant damage to the Italian economy. The party's leader, Matteo Salvini, paid a visit to Crimea in 2014, after the republic's reunification with Russia and promised to repeat this visit in the nearest future.
You can share this story on social media: