Leftist leader labels latest Russian poll a step towards 2-party system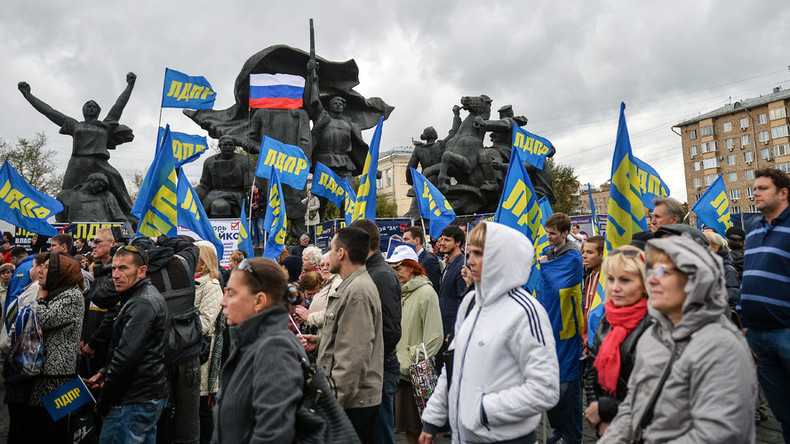 The head of the center-left party Fair Russia has told the press that he saw the constant presence of four major parties in the parliament as a pre-requisite to a genuine two-party system in the country with rightist and leftist centers.
"In essence we are now witnessing the beginning of formation of a real two-party system. I think that as we put the organization of political parties and elections in order we would push the situation towards the formation of a two- or three-party system in the Russian Federation," Sergey Mironov was quoted as saying by Interfax.
READ MORE: Russian elections: Ruling United Russia stays at helm with 54.3%, rivals decry low turnout
"I see this possibility and I see that all prerequisites for this already exist. For the third time in a row four political parties will be represented in the State Duma," he added. Mironov also explained that the two-party system could be formed around the rightist center represented by United Russia and the Liberal Democratic Party and the leftist center formed by Fair Russia and the Communist Party of the Russian Federation.
LDPR leader Vladimir Zhirinovsky countered Mironov's proposal with his own plan to launch a three-party system in Russia, saying that this system should include United Russia, LDPR and a major political bloc including all parties that failed to get parliamentary seats in Sunday elections.
"A three-party regime would be acceptable for us. United Russia as conservatives, LDPR and a large party without [Yabloko party founder Grigory] Yavlinsky, [KPRF leader Gennady] Zyuganov and without Mironov," Zhirinovsky told reporters.
Russia held nationwide parliamentary elections on Sunday. According to preliminary results of the ballot count United Russia will get 343 seats in the 450-seat lower house, the Communists seats, LDPR 39 and 23 for Fair Russia. Representatives of the Motherland and the Civil Platform parties received one place each through elections in independent constituencies and one seat went to an independent candidate.
READ MORE: 'Reply to external pressure' – Putin welcomes United Russia victory
Representatives of rightist opposition Parnas and liberals Yabloko failed to overcome not only the 5 percent threshold required to secure parliamentary seats, but also the 3 percent threshold that allows political parties to receive state sponsorship until the next parliamentary polls.
You can share this story on social media: