'Reply to external pressure' – Putin welcomes United Russia victory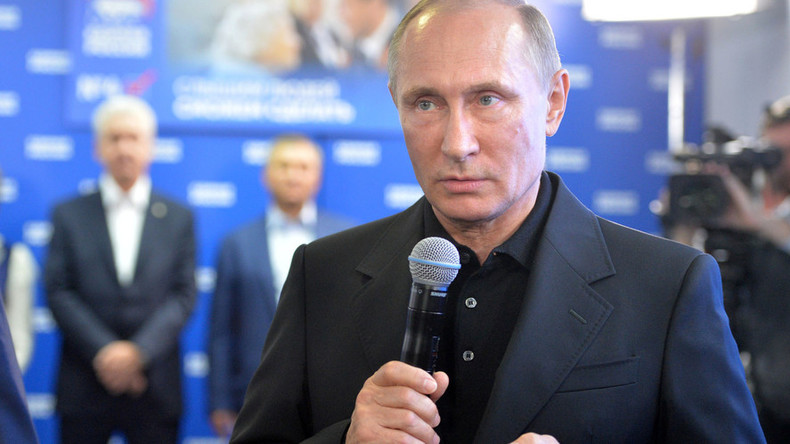 Vladimir Putin has called United Russia's landslide victory in Sunday's parliamentary polls proof of citizens' trust, saying it is the best answer to external sanctions and internal attempts to destabilize the country.
"In a situation riddled with complications and a large number of uncertainties and risks, the people unconditionally choose stability, and trust the leading political force – the government. The results of the voting are also the reaction of our citizens to attempts of external pressure on Russia, to threats, sanctions and attempts to destabilize the situation from the inside," the Russian president told government members on Monday.
Putin also told ministers that despite the overwhelming popularity of the centrist conservative party United Russia, they should continue to develop a multi-party system and pay attention to all political movements, including those that failed to gain parliamentary representation in the Sunday elections.
READ MORE: 80% of Russians would not join protests – poll shows
Putin told government members that they should abstain from using "shock therapy" in economic reforms, making only gradual changes under carefully-weighted plans.
On Sunday night Putin visited United Russia's elections headquarters together with the party leader, Russian PM Dmitry Medvedev, and said that the apparent victory in the State Duma elections was a very good result.
Putin also praised the efforts of United Russia MPs and other party officials in making the lives of the Russian people better."They work as effectively as possible. Some skeptics can say that they don't work as well as they could. But no one is performing better, it is that simple," the president said.
According to preliminary estimations released by the Central Elections Commission on Monday afternoon, United Russia garnered over 54 percent of votes cast for political parties' federal lists of candidates. The Communist Party of the Russian Federation ranked second with over 13 percent, the Liberal Democratic Party of Russia (LDPR) also gained over 13 percent, and the Fair Russia party received slightly over 6 percent of votes. Other parties failed to overcome both the 5 percent threshold required to secure parliamentary representation and the 3 percent threshold necessary for getting state sponsorship until the next parliamentary polls.
READ MORE: Russian elections: Ruling United Russia stays at helm with 54.3%, rivals decry low turnout

According to preliminary results of the ballot count, candidates backed by United Russia also received 203 of 225 seats reserved for elections in independent constituencies. In addition, one United Russia member won as an independent candidate. The Communist Party and Fair Russia received seven seats each, with the Liberal Democrats gaining five. Two seats went to the nationalist party Motherland and the pro-business party Civil Platform. According to latest reports, the turnout at the elections was slightly over 40 percent.