80% of Russians would not join protests – poll shows
Published time: 16 Sep, 2016 10:29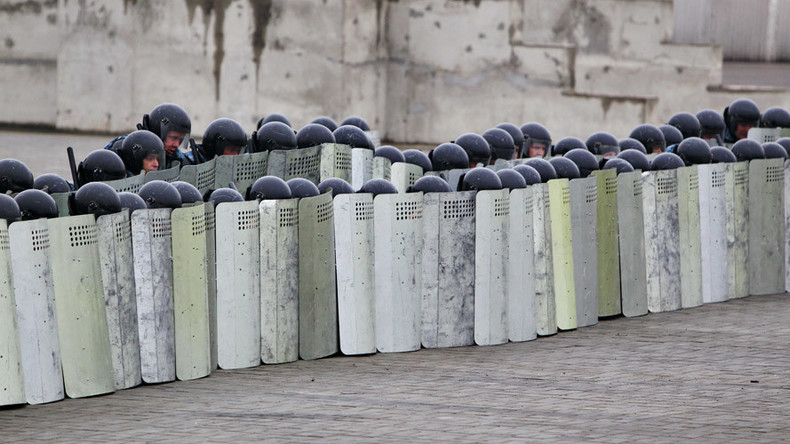 Over 80 percent of Russians are unwilling to take part in mass protests over political or economic issues, latest opinion poll shows.
According to research conducted by the independent polling agency Levada-Center, most Russians think that mass protests in their regions are highly improbable. Only 18 percent believe that protests could occur due to decreases in living standards, and 12 percent said that if protests did occur, they would not take part in them. 15 percent of the respondents believe that political protests could happen in the near future, but only 10 percent said that they would take part.
READ MORE: More Russians expect protests but most won't participate - poll
The deputy head of the Levada-Center, Aleksei Grazhdankin, told the daily Vedomosti that the low protest activity among Russians was probably caused by the fact that previous protests had yielded no results, at least for those who took part in them.
Respondents are also reluctant to be involved in protests because they do not see them as something peaceful or entirely legal, but rather as 'violent clashes.' Grazhdankin also told reporters that in his view, the average Russian sees the latest developments in neighboring Ukraine as a warning against protests because the crisis in the country started after the 2014 change of regime caused by violent mass rallies, known as Maidan.
"People do not expect the forthcoming elections to be rigged, despite the usual pre-poll trends. No one is currently promoting the idea that the polls will not be legitimate, and there are no tensions. If the authorities indicate that it is possible to protest, the people might do so, but as long as the authorities are seen as strong and resolute, protests are very unlikely," the researcher said.
READ MORE: Half of Russians express readiness to vote in 2016 parliamentary poll
A similar poll conducted by the state-run agency VTSIOM in January 2015 indicated that the likelihood of protests in the streets of Russia had increased, but most people still viewed them as improbable and had no intention of taking part. 37 percent of the respondents maintained that public protests were useless in principle, while 28 percent said they did not want confrontation with police, and 26 percent said they feared it would have a negative effect on their career.
In 2015, as many as 30 percent of Russians said that street protests were "inadmissible," as they could completely destabilize the country's political system, while only 23 percent thought that public protests were a normal part of democracy.