More Russians expect protests but most won't participate - poll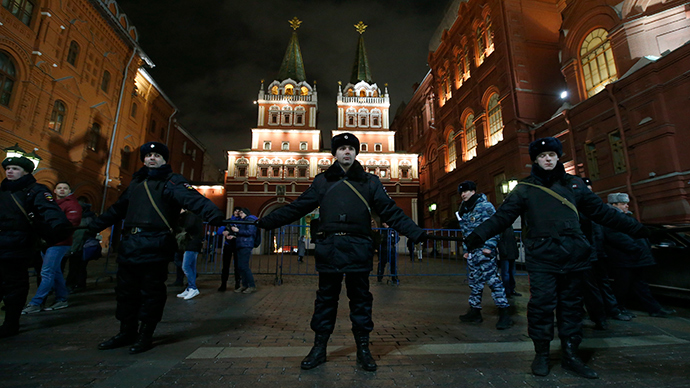 The expectations of street protests in Russia have increased almost two-fold over the past four months, but most view such a development as improbable and are making no plans to take part in rallies.
According to the latest poll by the VTSIOM agency, 27 percent of Russians think that mass protests are possible in the nearest future. In September last year, only 14 percent of responders held this opinion.
Those who expect protests say they might be caused by the falling living standards in the country, and also in defense of ordinary people's rights.
However, 77 percent of those polled said they weren't going to join the discontent giving various reasons. Thirty-seven percent of all responders maintained that public protests were useless in principle,28 percent said they did not want confrontation with police, and 26 percent answered they feared taking part in protests would have a negative effect on their career.
Moreover, as much as 30 percent of Russians called street protests "inadmissible" in the current political situation as they could completely destabilize the country's political system. Twenty-three percent of responders think mass rallies are a normal part of a democracy, compared to 36 percent in 2012.
The head of the VTSIOM center, Valery Fyodorov, said the general mood in Russian society was becoming more pessimistic, and this was caused by deteriorating economic problems. However, the researcher pointed out that social and political tensions were increasing only notionally, as the opposition had no alternative programs to offer.
"The discontent lacks both a clear definition and a clear image of the enemy. There is no agenda or slogan that could potentially unite protesters and there is no organizing force that could take people into the streets," Fyodorov told the Vedomosti daily.
"There are no grounds to suggest that everything could explode tomorrow or even in one year's time," he added.
In mid-December last year, the Associated Press together the NORC Center for Public Affairs Research released the results of a poll showing about 80 percent of Russians still supported President Vladimir Putin and his policies. The poll was conducted in late November and early December, when the Russian ruble was already in decline. Researchers said the public didn't see Putin as the reason for their everyday problems, but as the solution. In addition, Russians favored Putin's hardline foreign policy, his methods of managing the economy, and efforts aimed at strengthening the military.
Other pollsters and think tanks also recorded a surge in Putin's popularity in 2014.
In December, an independent Russian pollster, the Public Opinion Foundation, released the results of a poll in which 68 percent of Russians said they considered Putin worthy of the 'Man of the year' title.
In October, the Levada polling agency released research according to which 49 percent of Russians said they were ready to vote for Putin if a presidential election was held the next weekend. In August 2014, this share was 57 percent – the highest in history.
You can share this story on social media: