Chechen leader blames US for bloodshed in Afghanistan & other Muslim nations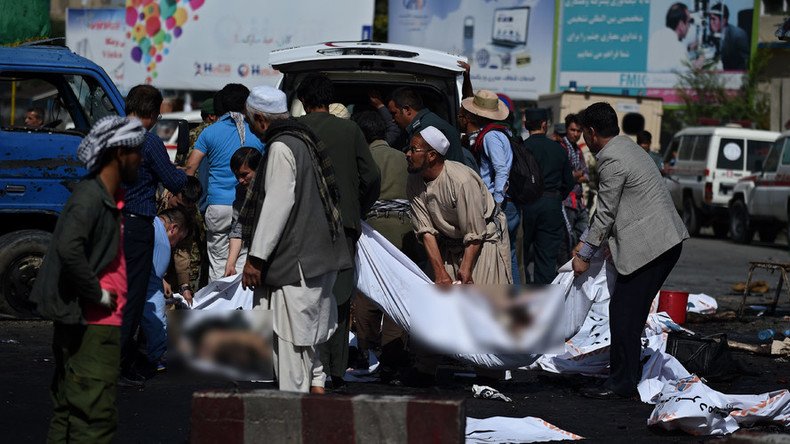 Ramzan Kadyrov has accused the US authorities of instigating the civil war in Afghanistan and other Muslim countries, and called on senior politicians in these states to set aside their differences and unite in the face of what he sees as a common enemy.
"During the 37 years of the war in Afghanistan peace has not become closer, not even by a single step. The United States used the excuse of fighting their own Bin Laden to unleash a decades-long civil war there. America and NATO could have solved the Afghan problem in just two years, but they need this eternal bloody cauldron in Afghanistan that takes the lives of many thousands of young Muslims," the acting head of the Chechen Republic stated in comments on the latest terrorist attack in Kabul.
Kadyrov expressed his position in a post on Instagram – a medium he normally uses for communication with the public.
READ MORE: Chechen leader blames US & Western intel for Islamic State terrorists
In the message, he emphasized that the United States and its NATO allies have artificially created the instability in the region. "Step by step they start wars in Muslim countries. Iraq, Syria, Libya, Egypt, Yemen are now facing the threat of losing their sovereignty," Kadyrov wrote.
The Chechen leader also called on all Afghanistan's leaders to set aside personal ambitions and ethnic and religious differences to unite in the face of the common threat. "Once Pashtu, Uzbeks, Tajiks, Sunnis, Shia all join their ranks, no one would ever be able to impose some external will on you," he wrote.
At least 80 people were killed and 231 injured as a result of a bomb blast at a mass rally in Afghanistan capital Kabul on July 23. The Islamic State terrorist group (IS, formerly ISIS/ISIL) has claimed responsibility for the attack.
READ MORE: Death toll in Kabul suicide attack climbs to over 80 killed, more than 230 injured

Kadyrov has repeatedly accused the United States and other Western nations of deliberate policies aimed at destroying Muslim countries and the Muslim faith. In February last year he said IS had been "spawned" by the West to incite hatred towards Muslims all over the world. Kadyrov also suggested the West was backing the terrorist group in order to distract public attention from numerous problems in the Middle East, in the hope of destroying Islamic nations from within. In November he accused the Turkish authorities of aiding Western nations' plot to weaken and destroy Islam by assisting Islamic State and its allies in Syria.
READ MORE: Kadyrov blames Turkey for executing 'Western plan to destroy Muslim nations'

Kadyrov also previously claimed that he possessed information that the Islamic State leader, Abu Bakr al-Baghdadi, had been personally recruited to work for the US by General David Petraeus, the former director of the CIA and former commander of coalition forces in Iraq and Afghanistan. At that time, Kadyrov claimed IS "was acting on orders from the West and Europe."
You can share this story on social media: