Donald Duck cleared of extremism charges by court in Russian Far East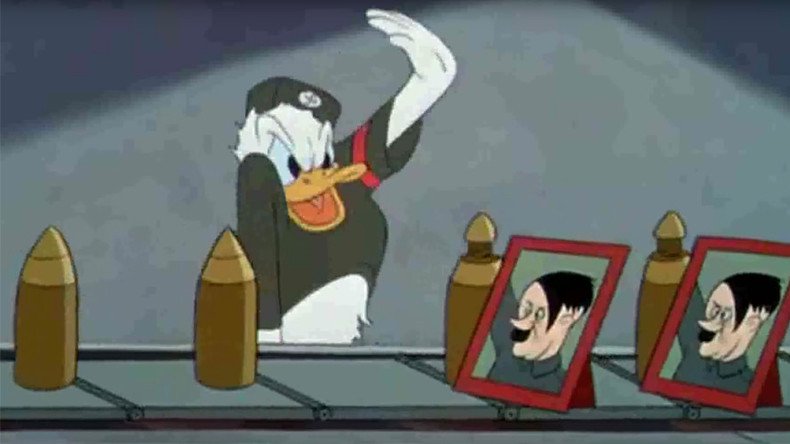 The highest court in the Russian Far Eastern region of Kamchatka has ordered the cancelation of an earlier ruling recognizing a 1942 Disney cartoon depicting Donald Duck's adventures in Nazi Germany as 'extremist material'.
The ruling in question was passed by the city court of Petropavlovsk Kamchatsky in 2010. Back then the judge gave a six-month suspended sentence to a local resident for distributing extremist materials over the internet. The propaganda included the Oscar-winning animation 'Der Fuehrer's Face' that the accused called 'Donald Duck and Fascism' in Russian and because of this the film has been included in the Russian federal list of banned extremist materials.
READ MORE: Russian court reverses ruling recognizing Muslim book as extremist
When prosecutors discovered this fact they filed a cassation with the regional court explaining that the video is a classic Walt Disney cartoon made within the framework of an anti-Nazi propaganda campaign. They also wrote that the film contains no calls to extremism - on the contrary, it depicts Nazi ideology in satirical and mocking forms.

The court agreed with this statement and also ruled that the film's characters are not promoting violence against anyone.
'Der Fuehrer's Face' - also known under the title 'Donald Duck in Nutzi Land' - was created in the United States in 1943 and in the same year its director, Jack Kinney, received the Academy Award for best animated short.
READ MORE: Putin signs into force more anti-extremism laws
Current Russian law bans any public calls for extremism or attempts to humiliate people and provides that such actions should be punished with up to five years in prison. This applies to internet posts as well as mass media publications. Decisions on the subject are made by regional courts, but once something is recognized as extremism anywhere in the country, this material is included in the federal list of banned information.
You can share this story on social media: