Duma gives final nod to new anti-terrorist bill, removes most controversial points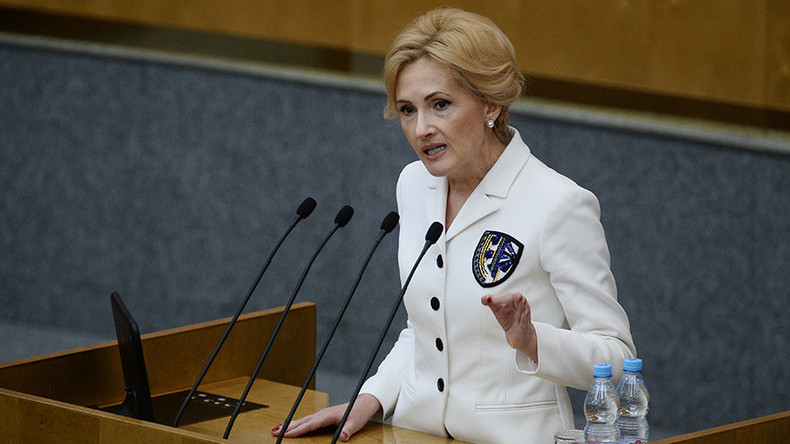 The Russian Lower House has passed a bill introducing life sentences for international terrorism and lowering the age threshold for extremist crimes, but scrapped a proposal to automatically strip convicted terrorists of Russian citizenship.
The anti-terrorist package of bills was prepared by a group of lawmakers headed by Chair of the State Duma Committee for Security Irina Yarovaya. The motion was drafted in April 2016. Its sponsors said it was a response to the bombing of the A-231 jet liner in Egypt in October 2015, and the terrorist attacks in Paris in November last year.
READ MORE: Duma committee softens restrictions on exiting Russia in new anti-terrorist bill

The Lower House approved the draft in its second and third reading on Friday. The final version contains a separate criminal article, which sets punishment of between 10 years and life in prison for international terrorism. Financing terrorist groups can carry up to 15 years behind bars. Terms of between eight and 15 years are proposed for assisting extremist activities unconnected with actual terrorist attacks.
If someone was aware of preparations to an act of terrorism, but chose not to inform law enforcers, that person could be levied fines of up to 100,000 robles (about $1,530) or jailed for up to a year.
The new bill also lowers the age threshold for terrorist crimes, such as terrorist attacks and hostage taking, to 14 years from the current 16 years. Presently the age of minors in Russia is 16 years, with exceptions made for such crimes as murder, rape, kidnapping and some others. For these, criminals are deemed to be responsible from the age of 14.
Another provision is the stipulating fines of between 300,000 and 1 million rubles ($4,600 - $15,400) or prison terms ranging from five to seven years for public calls to terrorism or justifying terrorist crimes, including via the internet.
Once the bill is passed into law, it will allow Russian law enforcers to prosecute terrorist recruiters and sponsors – such crimes carry punishments of between five and 10 years behind bars as well as large fines.
The draft obliges all communications companies, including internet providers, to retain information about data traffic on their servers for three years (one year for messengers and social networks). Actual records and messages must also be kept for six months. The document requires these companies to hand over encryption keys to state security agencies, allowing them to read encrypted data. Non-compliance could cost the companies between 800,000 and 1 million rubles ($12,300 – 15,400) in fines.
READ MORE: South Russian region drafts bill on denaturalization of terrorists
Before giving the bill the final nod, Russian lawmakers decided to remove the part that caused most discussion and criticism - a proposal to denaturalize convicted terrorists or recognize such people as voluntarily giving up Russian citizenship. The State Duma also chose to exclude portions of the draft that introduced bans on exiting Russia for everyone officially warned that their actions could help terrorists.
You can share this story on social media: