Russian internet watchdog blacklists Vice.com over shoplifting propaganda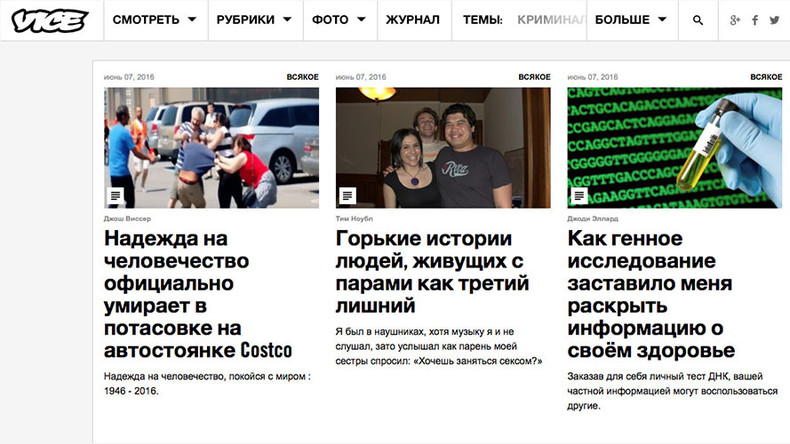 The state media and internet watchdog Roskomnadzor has put the popular international news site Vice.com on the list of banned internet resources after a court in Siberia recognized one of the outlet's articles as propaganda of shoplifting.
In the message about the blocking Roskomnadzor stated that the city court in Tobolsk has ruled that Vice.com materials contained information promoting theft from shops and shopping malls. The agency said in the same message that it had already warned the website that some of its materials were forbidden for distribution in the Russian Federation, but Vice.com representatives had not reacted to these warnings.
Russian law introduced in 2012 allows the authorities to block harmful website without a court warrant, simply by order of Roskomnadzor. The sponsors of the law said it was established to counter illegal content such as child pornography, suicide guides and guides on producing illegal drugs.
READ MORE: Russian 'internet blacklist' goes online
Under the law, once a website with illegal content is discovered, Roskomnadzor has to inform the owner of the source and their hosting-provider and demand that the prohibited information is removed. In case the source is still available 48 hours after such a request is sent, access to it will be blocked by Russian internet service providers throughout the country. While providers will be granted access to the entire blacklist, ordinary users will be able to check whether a particular internet site has been banned.
In April this year the head of Russia's Central Investigative Committee, Aleksandr Bastrykin, proposed to follow the Chinese example and introduce a complete ban on electronic mass media completely or partially owned by foreign citizens or companies.
"I have an understanding that we in Russia could use this experience to a reasonable extent," Bastrykin said in an interview with Kommersant-Vlast magazine.
READ MORE: Top Russian investigator proposes internet censorship using Chinese experience

Vice.com is an internet version of the international print magazine Vice that originally described itself as "punk" and reported mostly on youth subcultures, but later began to cover all usual news topics.
You can share this story on social media: