Senator prepares bill banning 'baby boxes' in Russia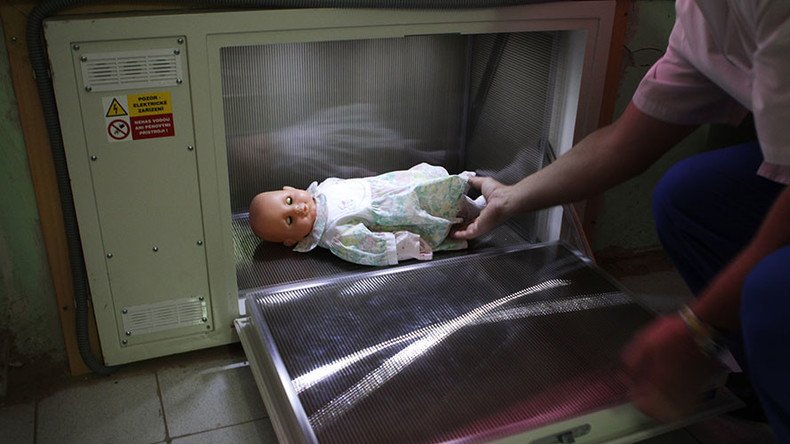 Russian senator Yelena Mizulina has prepared a motion banning "baby box" facilities that allow parents to anonymously abandon their newborn children, saying these cause more people to give up their infants, as was the case in Tsarist Russia and elsewhere.
"My bill stipulates for a ban on anonymously abandoning children after their birth and on the creation of special places for [such a purpose] – so-called baby boxes. The bill introduces administrative responsibility for any legal entity that creates conditions facilitating the abandoning of newborn infants, organizes such abandoning or allows it in its rooms and buildings," Mizulina said on Wednesday at a press conference called for the presentation of her draft.
"The state must not encourage the abandoning of children by their parents. These baby boxes are a form of encouragement to refuse yet-unborn children. The experience of all countries that attempted to introduce the baby boxes proves that the number of babies abandoned grows sharply, due to the anonymity and ease of this procedure," the lawmaker added.
READ MORE: MPs split over 'baby box' initiative
If the bill is passed, such actions would be punished by fines of between 1 and 5 million rubles (about US$15,000 – 75,000) or by suspension of the company's work for up to 90 days.
Mizulina also noted that some Russian regions had already passed laws allowing the installation of baby boxes, but the practice had to be banned on the federal level and stopped.
She also told reporters that when a program of anonymously abandoning children was started in the Russian empire in the 18th century, it had to be shut down because the state could not support the large number of orphans that appeared as a result.
The senator also pointed at the possibility of abuse that can arise in anonymous procedures. "In reality, when baby boxes exist any kid can be stolen [from their parents] and placed in this box. By creating these anonymous places we create conditions for legalized child trafficking and illegal extraction of organs from babies," she said, adding that specific examples of such crimes could be found in the explanatory note attached with the bill.
Starting from 2011, 13 Russian regions have attempted to introduce baby boxes in their cities, claiming the danger to infants' health that appears when parents simply leave them in public places or near hospitals and orphanages. Local prosecutors banned these installations in nine regions, and only two have officially recognized it as legal.
READ MORE: Russian NGO proposes nationwide register of prospective adoptive parents

The legislative ban on baby boxes was proposed in August 2015 by lawmakers from the nationalist party LDPR. This draft ordered fines and correctional labor both for those who set up the facilities and for parents who use them. The sponsors of the bill also explained that in their view baby boxes encouraged parents to give away their children by offering a simple and safe way to do so.
Around the same time, Senator Konstantin Dobrynin from Arkhangelsk Region drafted a bill that would legalize baby boxes and detail state requirements for such facilities and personnel who run them. He pointed out that wider use of baby boxes could prevent the cases in which mothers either kill their unwanted newborns or leave them in the street, potentially leading to their deaths.
So far, neither of the drafts has passed a single parliamentary reading.
You can share this story on social media: