MPs split over 'baby box' initiative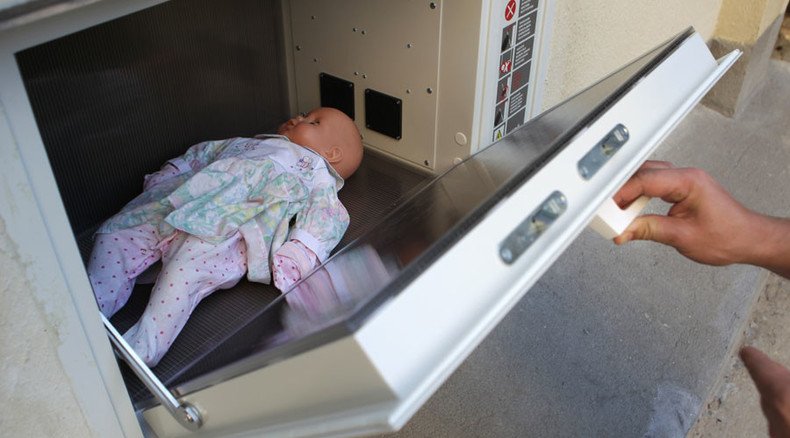 Lawmakers from the nationalist party LDPR have proposed a law banning the practice of so-called 'baby boxes' – containers that allow parents to anonymously leave unwanted newborns at hospitals or orphanages.
Vitaly Zolochevsky has prepared a bill that would punish those who "install or use specially-equipped facilities for anonymous abandoning of the underage children," with fines of up to 500,000 rubles (about US$7,500) or correctional labor with restrictions on travel for up to two years.
The same bill also introduces punishment for those who abandon their children with fines up to 200,000 rubles (over $3,000), and up to five years of correctional labor or prison time.
Zolochevsky told popular daily Izvestia that he sought to outlaw baby boxes because they practically encourage parents to give away their children by offering a simple and safe way to do so.
READ MORE: Girl's walk on a leash in park prompts child abuse probe (VIDEO)
In mid-August this year upper house MP Konstantin Dobrynin (Arkhangelsk Region) drafted a bill that would legalize baby boxes and at the same time introduce state requirements for such facilities and personnel who run them. He pointed out that wider use of baby boxes could prevent the cases in which mothers either kill their unwanted newborns or leave them in the street, potentially leading to their deaths.
Experts noted that anonymously abandoning babies violates the Russian Family Code, which reads that any person has the right to know his or her parents. It also contradicts the UN Convention on children's rights, which orders the states that signed it to undertake maximum measures to protect children's life and health and enshrines their right to know their parents and ethnicity.
Baby boxes exist in several Russian regions, but as private initiatives and without any state regulation. Usually such facilities appear near churches. Law enforcers have several times questioned the legality of the practice, while prosecutors in the city of Kirov have pressed for the removal of baby boxes.
You can share this story on social media: