Transdniester parliament rejects reports of questioning Russian peacekeepers' status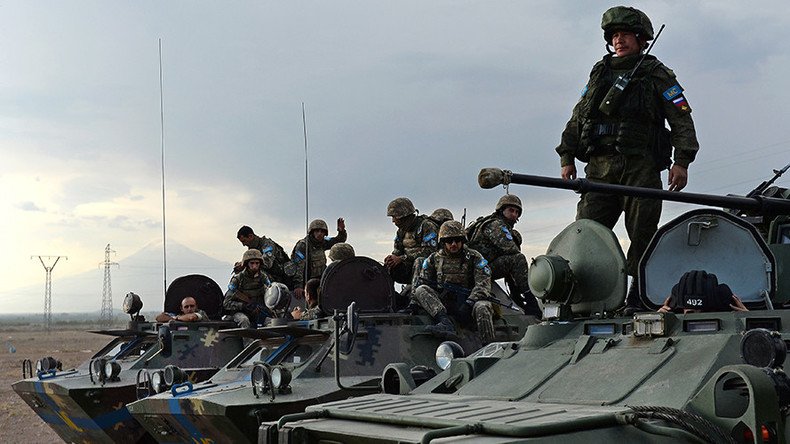 The Transdniestrian parliament has approved a statement dismissing as unfounded rumors any allegations that lawmakers were discussing the possibility of removing Russian peacekeepers from the self-proclaimed republic.
"The Supreme Soviet of the Transdniester Moldovan Republic expresses bewilderment and maintains that the reports about alleged initiation of dismantling of the peacekeeping operation, which have been spreading through the Transdniestrian sector of the internet, are obviously destructive and unfounded speculations, possibly of a political character," reads the document, as quoted by RIA Novosti. The lawmakers also called upon all citizens of the republic not to react to these "provocations."
READ MORE: Russia hints at AMD placement in Transdniester

The statement also called the Russian peacekeeping contingent in the republic "an unshakeable guarantee of peace, security and stability on the [River] Dniester's banks… Only maintaining and strengthening of the current peacekeeping format can create conditions for the dialogue between the Transdniester Moldovan Republic and the Republic of Moldova and normalization of bilateral relations," the document reads.
In addition, the chairman of the Supreme Soviet, Vadim Krasnoselsky, told MPs that he intended to prepare and draft a bill that would introduce criminal responsibility for the denial of the positive role of the Russian peacekeeping force in the settlement of the Moldova-Transdniester conflict. He noted that the attempts to hush the positive role of Russian peacekeepers could lead to resumed military conflict, loss of human live and dismantling of Transdniestrian statehood.
The unrecognized Republic of Transdniester has a population of over 500,000, most of whom are ethnic Russians and Russian-speakers. It came into existence in 1990 because its population did not approve of the nationalist policies of post-Soviet authorities in Moldova and their (yet-unfulfilled) plans to merge with Romania. In 1992, the dispute developed into a full-scale military conflict that has been settled with the help of joint peacekeeping force that still remains in the region. Currently this force is comprised of 402 servicemen from Russia, 492 from Transdniester, 355 from Moldova and also five observers representing Ukraine.
READ MORE: Russian Deputy PM pledges support to Moldova's breakaway region
In mid-2014, Russia and Transdniester signed a number of agreements on cooperation in trade, economy, education and culture. This was done as a reply to the Association Agreement between Moldova and the EU that deprived Transdniester of any opportunity to sell its products to European countries.
You can share this story on social media: