Seeing red: Russian communists to seek international copyright of star symbol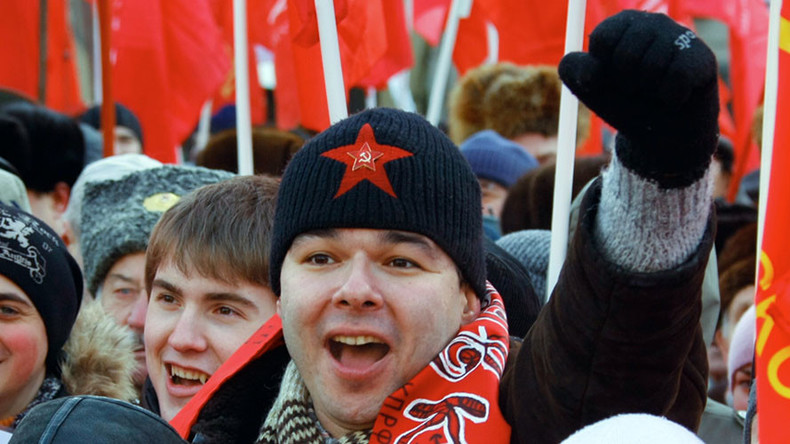 The Russian Communist Party wants to register its traditional symbol – the five-pointed red star – as an international trademark and ban foreign commercial companies from using it in their brands and ads.
The head of the legal service of the Communist Party caucus in the State Duma, Vadim Solovyov, told the 'Russian Planet' news site that in his comrades' view, no country with self-respect can allow its symbols to become commercially traded goods that help foreign companies to gain a bigger share of Russian markets.
Solovyov noted that the red star must be considered important for Russia because it was a part of the Soviet Union's state symbol and for a long time remained on the emblems and banners of Soviet and then Russian military forces (last year the emblem of Russian military forces was changed to a five-pointed star colored white blue and red – the colors of the modern Russian state flag).
READ MORE: Communists seek official ban on Russian anthem ringtones
Solovyov went on to complain that the red star symbol is frequently used in the logos of various foreign businesses, and that products with these logos appear on the Russian market. Quite often such products originate in nations that use sanctions against Russia.
"The history of our domestic products that bear this symbol is inseparably connected with the history of our country, but the use of our national brand for business purposes by foreign companies creates a controversy. Even more so in cases when these companies are registered in countries that use sanctions against Russia," the lawmaker told reporters.
He added that the Communist Party was preparing an address to Prime Minister Dmitry Medvedev in which they are asking for the registration of the red star symbol as an international copyright, and for steps to be taken to protect it against misuse.
This is not the first time the Communist Party has urged the Russian authorities and the population to do more to protect their state symbols.
READ MORE: Most Russians oppose ban on Soviet symbols - poll
In September last year, the Communists said they had prepared a bill introducing fines for unsanctioned use or distortion of the Russian state flag and coat of arms, as well as state symbols used during the Soviet era. According to the draft, action "targeting Russian statehood" should cost offenders five years behind bars. In May 2015, Solovyov proposed to legally protect the Russian national anthem by introducing fines for its use as a ringtone or for advertising purposes.
Earlier in 2015 the leader of the populist nationalist party LDPR, Vladimir Zhirinovsky, suggested banning any use of "symbols of victory" such as Red Army stars and banners, military medals, and St. George's ribbons for advertising purposes.