Duma chief welcomes Austria's 'open policy' towards Russia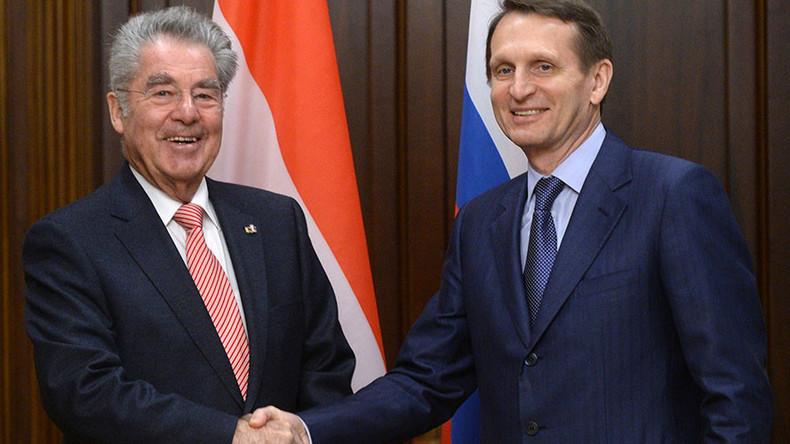 Lower house Speaker Sergey Naryshkin has expressed hope that Austria will continue its friendly and open policy towards Russia and that the two countries will eventually find a way to cancel the mutually-disadvantageous sanctions.
"Of course we are closely watching the developments of your country's internal political situation, in connection with the forthcoming presidential elections, and we hope that the new head of state will maintain the same open policies," Naryshkin said during the Wednesday meeting with Austrian President Heinz Fischer in Moscow.
The MP added that in his opinion the friendship and mutual respect between Russia and Austria were largely a personal achievement of Fischer.
READ MORE: EU sanctions are emotional step instructed by US – Russian parliament speaker
Naryshkin said Russia is ready to share with Austria its experience in fighting terrorism and settling refugees, noting that the current crisis in Europe is largely a result of the United States' efforts.
"Of course we are following the development of migration crisis in EU countries and in Europe as a whole with concern. We understand that the tremendous flow of refugees from Middle East and North Africa is connected with the thoughtless and irresponsible policies of the United States, the interference into these regions' affairs and attempts to overthrow the governments in these countries that do not suit Washington's needs," Naryshkin stated.
The Austrian leader promised that he would continue to press for the cancelation of anti-Russian sanctions introduced by the European Union about two years back.
"Sanctions are disadvantageous for both parties here. We should develop a common way that would lead to the lifting of sanctions in the nearest future," he said.
READ MORE: Austria condemns anti-Russian sanctions; confirms commitment to Nord Stream-2
Similar statements were made in early February this year by Austria's Vice-Chancellor Reinhold Mitterlehner during his visit to Moscow. The official said that EU sanctions against Russia had not led to any political progress but only inflicted damages to Austria's economy.
"We have over a thousand companies doing business with Russia from Austria, and another 500 Austrian firms working in Russia. 40,000 employees are being affected," Mitterlehner said. He also confirmed Austria's commitment to Russia's Nord Stream-2 gas pipeline project to Europe.