Austria condemns anti-Russian sanctions; confirms commitment to Nord Stream-2 (VIDEO)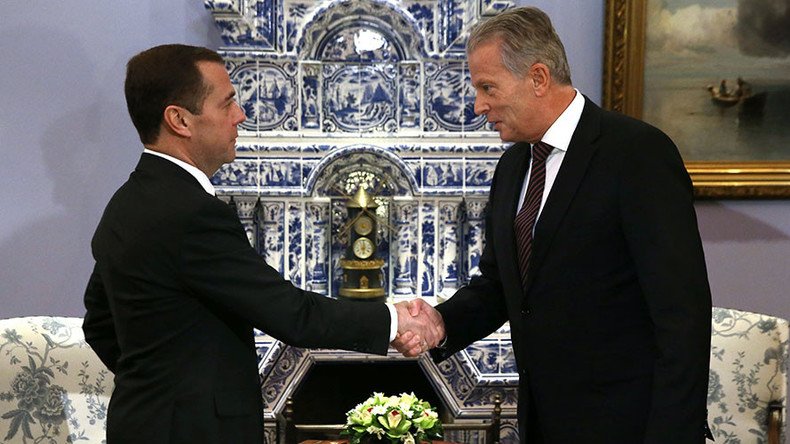 EU sanctions against Russia have made no political progress and brought negative effects to Austria's economy, said Austrian Vice-Chancellor Reinhold Mitterlehner during a visit to Moscow.
"We have over a thousand companies doing business with Russia from Austria, and another 500 Austrian firms working in Russia. 40,000 employees are being affected," said Mitterlehner.
The Vice-Chancellor also confirmed Austria's commitment to Russia's Nord Stream-2 gas pipeline project to Europe.
"We should ask ourselves whether we can jointly implement Nord Stream-2 in order to ensure more stable gas supplies to Europe and deepen our contacts," he said at a meeting with Russia Prime Minister Dmitry Medvedev.
Mitterlehner also said he discussed the project with Russia's Energy Minister Aleksandr Novak and Gazprom CEO Aleksey Miller a day earlier.
The Vice-Chancellor stressed the importance of the Austrian energy company OMV in the project. The company, with a 10 percent stake, is one five European firms with shareholding in the pipeline alongside Gazprom. The two companies sealed a separate deal on the terms and conditions of a possible asset swap, giving the Austrian company a 24.98 percent stake in the project. OMV got an opportunity to develop two units at an oil, gas and condensate field in north-central Russia.
READ MORE: Italy vs. Germany: Nord Stream-2 debate splits EU

Mitterlehner said the issue of an exchange of assets is between OMV and Gazprom should be firstly resolved by the management of the companies. The asset swap deal might be completed this summer, according to OMV CEO Rainer Seele.
Earlier this week, Ukrainian Prime Minister Arseny Yatsenyuk announced that Ukraine had filed a complaint to the European Commission requesting Nord Stream-2 be stopped. The project jeopardizes the security of gas supplies to the countries of South-Eastern Europe, according to Yatsenyuk.
The Nord Stream-2 pipeline aims to provide direct delivery of natural gas from Russia to Germany bypassing countries in Eastern Europe. It promises to deliver 55 billion cubic meters of gas annually.
You can share this story on social media: