No compromise with US over fate of Syria President Assad - senior Russian diplomat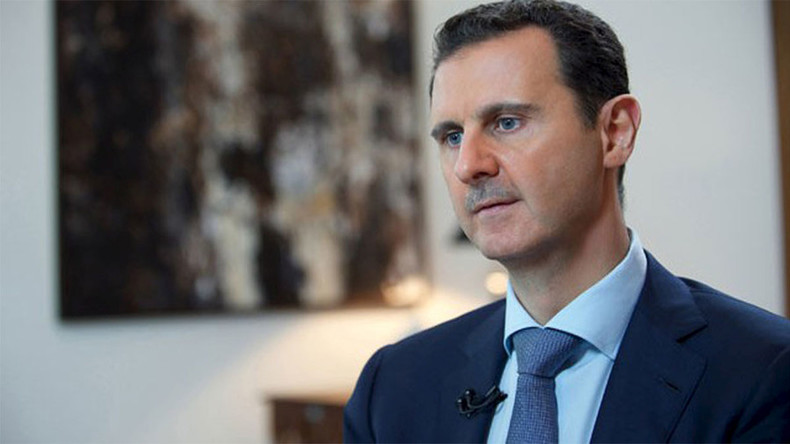 The main demand of US side in Syria talks – the ousting of President Bashar Assad – is absolutely unacceptable for Russia as it destroys the prospects of a political settlement, Russia's deputy foreign minister says.
"We will never agree with our colleagues in Washington, as well as in a number of other capitals, who maintain that the whole task should be tuned by the well-known phrase reading 'Assad must leave'," Sergey Ryabkov said in an interview with RIA Novosti.
READ MORE: Top Russian diplomat blasts US politicians for using anti-Moscow rhetoric to boost ratings

He went on to explain that in Moscow's view such an approach contradicts not only the Russian foreign policy doctrine, which does not accept any attempts to change political regimes in sovereign countries from abroad (so-called 'color revolutions'), but also due to the fact that such demands deprive the political process of any prospects for success.
According to Ryabkov, at the present time Syrian opposition movements and Western nations that back these movements are all so sure of their cause that they simply cannot agree to the fact that Assad would remain in the center of the Syrian political process for some unspecified period of time.
"What conclusion can we draw from the current situation if we have no intention to disrupt the talks and the normalization process? The conclusion is that we should put this problem aside and let the Syrian sides in the conflict to determine when and on which basis this problem will appear again," he told reporters.
Ryabkov's comment came shortly after Assad gave an extensive interview to the Russian news agency Sputnik, in which he said that the most important lesson Syria had learned from its five-year civil war is that the Western nations cannot be trusted.
The Syrian leader added that the policies of the US and EU were far removed from the principles of international law and the United Nations and because of that it was impossible to rely upon the West to solve any issue.
In such conditions, every leader "should be able to choose friendly states that will stand by him during crises," Assad said, hinting at the support his country received from Russia.
READ MORE: West is 'dishonest,' pursues policy detached from intl law – Assad
A ceasefire was announced in Syria in late February after a five-month long operation of the Russian Air Force helped the Syrian military to liberate some parts of the country occupied by Islamic State (IS, formerly ISIS/ISIL) terrorists. The next round of intra-Syrian talks between the government and opposition is scheduled to take place in Geneva, Switzerland on April 9.