Int'l law group snubs whistleblower's attack on Russian prosecutor general
Published time: 30 Mar, 2016 10:28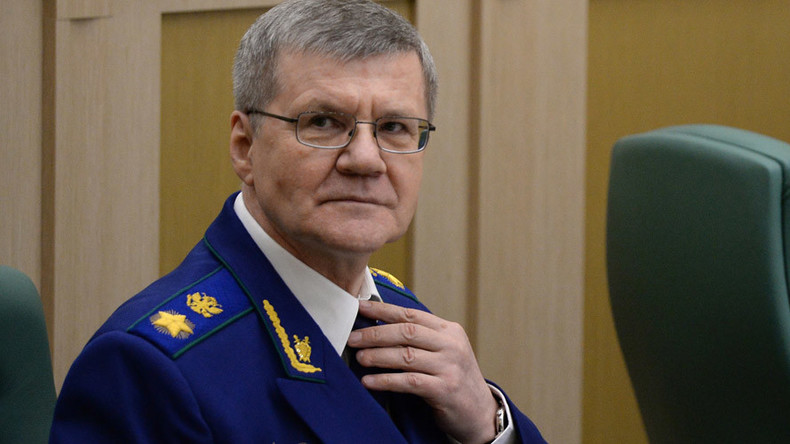 The International Association of Prosecutors has rejected Aleksey Navalny's request to oust Russian Prosecutor General Yury Chaika from its ranks, saying the allegations made in the whistleblower's letter were not supported by any verifiable facts.
The association looked into Navalny's letter, and then requested and received explanations from Chaika. The information was then discussed in the organization's executive committee, which unanimously voted that there was no reason to take any action against Chaika, Interfax reported on Wednesday.
READ MORE: Prosecutor General dismisses report linking him to gang of murderers as 'lies' and 'hatchet job'

Chief spokesman for the Prosecutor General's Office Aleksandr Kurennoy confirmed that the International Association of Prosecutors informed his boss about the decision not to take any action after studying Navalny's allegations.
Navalny called the decision "disappointing and unpleasant" in a blog post, adding that it was proof of the fact that he and his allies should not wait for help from abroad.
The Hague-based International Association of Prosecutors unites about 250,000 prosecutors from 170 nations. Chaika is a member of the organization's main ruling body – the senate.
Prominent anti-corruption blogger Navalny asked the group to exclude the chief Russian law-enforcer from its ranks in late 2015. The request came as a part of a larger campaign in which the activist and his organization – the Foundation for Fighting Corruption – accused Chaika's family members and close colleagues of running criminal businesses and having ties with convicted criminals.
Navalny's foundation has also addressed the Swiss police asking them to launch a probe against Chaika's son, Artyom, alleging that he had violated Swiss migration law and could be involved in money laundering. Earlier this week, Russian newspaper Kommersant published the Swiss law enforcers' official reply, which said the preliminary probe into Navalny's claims had found no substance to these accusations.
READ MORE: Swiss refuse whistleblower Navalny's request to probe top Russian law enforcer's family

After Navalny launched his campaign against Chaika in December last year, the prosecutor general and his family members dismissed all accusations by the activist as plain lies. Chaika also told the press that the PR campaign against him had been ordered and sponsored by international investor William Browder as revenge for uncovering the latter's illegal financial schemes. Browder was convicted of large-scale tax evasion and sentenced to 10 years' prison in absentia in 2013.