Ex-Finance Minister Kudrin urges Russian authorities to raise pension age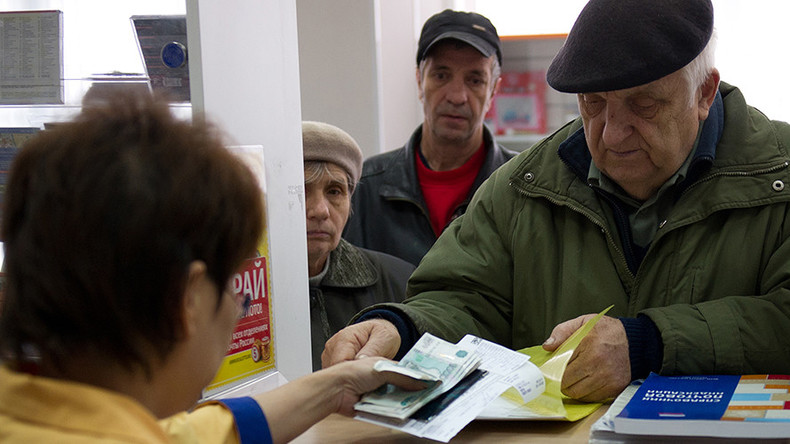 Former Russian Finance Minister Aleksey Kudrin has urged Moscow authorities to raise the state pension age, but noted it would be better to take such steps after the parliamentary elections.
"Probably not right now, but after the parliamentary elections that will take place in September – the raising of the state pension age must be announced," Kudrin said in an interview with Izvestia daily when asked about what he would personally do if he still were in the government.
Kudrin, who is the head of a major think tank, went on to suggest that the raising of the pension age might start in 2019, but as this step required some preparatory work, an official announcement must take place earlier. "Everyone understands that this would happen sooner or later, the time has come to make a decision and to determine the desirable scenario for this situation," he said.
READ MORE: Ex-Russian finance minister Kudrin suggests early presidential elections to speed up reforms

The former minister did not disclose his personal preferences on the issue, but explained that the transition must be gradual and spread over the period of several years. However, when reporters attempted to ask Kudrin if he was aware of any as yet unannounced decisions concerning pensions, he answered that he was only talking about his personal ideas.
A key lawmaker from parliamentary majority party United Russia criticized Kudrin's proposal in comments made on Tuesday. "As for the elegant statement made by Mr Kudrin, let us agree today and announce it after the elections – this statement is utterly ridiculous. It is absolutely clear that the real purpose of such actions is to sow doubts among the people and undermine our results at the forthcoming polls," Deputy Chairman of the State Duma Andrey Isayev told TASS.
READ MORE: Former finance minister Kudrin blames United Russia for economic stagnation

The current state pension age in Russia is 60 for men and 55 for women. Officials from the government and the State Pension Fund have repeatedly called for the age to be raised, pointing at the growing imbalance in payments caused by the changing age structure of the population, but so far politicians in power have resisted this step.
Aleksey Kudrin worked as the Russian finance minister between 2000 and 2011. In 2010 Euromoney magazine named him the world's best finance minister. In 2011 he resigned after publicly criticizing then-President Dmitry Medvedev for increasing social and military spending. After losing his government post, Kudrin founded a think tank called the Committee of Civil Initiative, which specializes in economic forecasts that are often pessimistic.
Despite his conflict with Medvedev, Kudrin remained a personal friend of President Vladimir Putin and regularly met with the president to give his opinion on key economic and political issues. Putin himself has confirmed this, but specified it was wrong to describe Kudrin and himself as like-minded people.
In mid-2015 Kudrin indicated his willingness to return to the cabinet if the Russian authorities agree to hold more reforms. "I have never ruled out my return to state power. I don't want to talk about specific positions but such a return is possible under favorable conditions – if our authorities become inclined towards reform," Kudrin said in an interview with Interfax. However, he added that the return was unlikely to take place in the nearest future, adding he had already received offers to chair the Central Bank but had turned them down because he thought that under the current government course the institution wouldn't work effectively.