Nemtsov murder mastermind named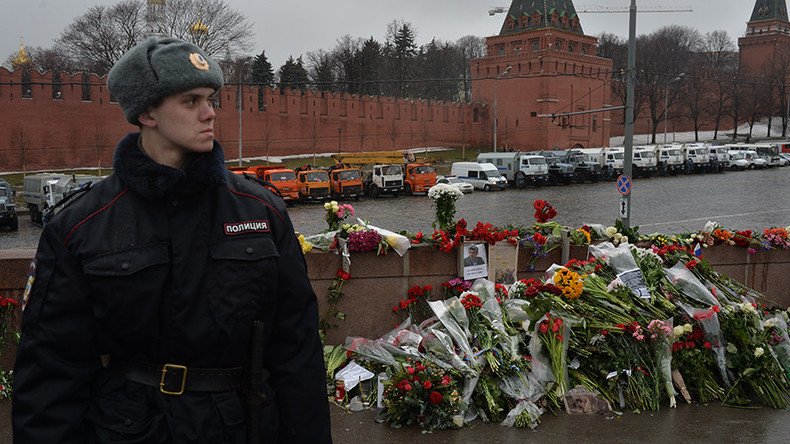 Russia's Investigative Committee has pressed final charges against the suspected murderers of prominent opposition figure Boris Nemtsov, including the hit's suspected organizer Ruslan Mukhutdinov, currently at large and on the international wanted list.
The committee also said in the Tuesday statement that it plans to start a separate criminal probe against Mukhutdinov and a number of yet unidentified persons who could also have been involved in Nemtsov's assassination.
Also on Tuesday, investigators pressed final charges of a contract murder by an organized group and illegal purchase, possession and carrying of firearms against the four detained suspects. They said that the suspects' complicity in the killing had been confirmed by over 70 forensic experiments, testimonies of witnesses, CCTV records and many documents seized at the suspects' places of residence.

The law enforcers added that the lawyers representing the prosecution and the defense would receive all case materials in January.
READ MORE: 'No political motive in Nemtsov assassination' - investigators
Earlier, Russian mass media revealed Mukhutdinov as the primary suspect in Nemtsov's killing on these grounds he had been put on the Russian federal and international wanted lists. One of the suspected killers, Zaur Dadaev, reportedly told investigators that the murder was revenge for Nemtsov's "negative comments on Muslims and Islam," in particular, the public condemnation of Islamists who killed the journalists from the Charlie Hebdo magazine in France. However, a short time later Dadaev retracted his testimony. The other suspects denied any involvement in the case.
In comments on the Investigative Committee's statement, the lawyer representing Nemtsov's family said he disagreed with the main conclusion.
"Mukhutdinov is just one of the organizers and he is one on the lowest rank. He only used to work as a driver for [one of the suspects] Ruslan Geremeyev," he told RIA Novosti.
A defense lawyer representing Zaur Dadaev told Kommersant radio that the charges against Mukhutdinov were "unfounded" and added that he and his client intended to demand a trial by jury. Russia allows jury trials in cases where the maximum punishment is 10 years or more. The final verdict is still made by the judge, but it cannot be harsher than the one passed by the jury.
READ MORE: Prime suspect says Nemtsov killed over 'negative comments on Muslims' – report

Boris Nemtsov was a regional governor and a deputy PM under President Boris Yeltsin. In recent years he had turned into an opposition politician occupying a seat in the legislature of central Russia's Yaroslavl Region.
In February this year Nemtsov was shot dead while crossing the Bolshoi Moskvoretsky Bridge, near the Moscow Kremlin. The assassination prompted a thousands-strong march in the Russian capital, with demands to find and punish the killers.
President Putin personally promised in a public address that everything would be done to punish those responsible for the organization and execution of the murder.
You can share this story on social media: