Prime suspect says Nemtsov killed over 'negative comments on Muslims' – report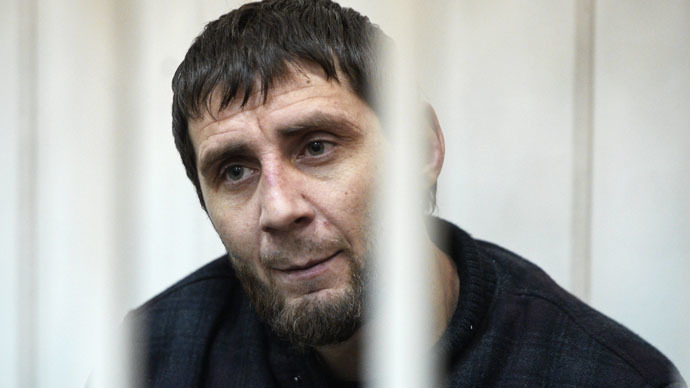 Zaur Dadaev, who had reportedly confessed involvement in Nemtsov's murder, said he organized the crime in revenge for the opposition leader's "negative comments on Muslims and Islam," according to Rosbalt's source in law enforcement.
Dadaev is one of five suspects arrested in connection with the politician's assassination. The judge Natalia Mushnikova said on Sunday that Dadaev confessed his involvement in the crime to the investigators. The accused didn't comment on this during the court session.
READ MORE: 5 suspects arrested over Nemtsov murder, 1 'confessed' – court
The Rosbalt news agency claims its source in the law enforcement knows exactly what Dadaev said during interrogation.
In January 2015, the suspect allegedly "learnt that Boris Nemtsov more than once allowed himself negative comments on Muslims living in Russia, prophet Mohammed and Islam," according to the news agency.
"As a matter of fact, Dadaev acknowledged having organized this crime," Rosbalt's source said.
It has not been specified which of Nemtsov's words in particular angered his alleged killers.
READ MORE: Putin wants Russia spared from 'brazen' crimes like Nemtsov murder
Following the Charlie Hebdo attack in Paris, the politician wrote in his blog that the world was witnessing a "medieval Islamic inquisition."
He also said the Chechen leader, Ramzan Kadyrov, "made everyone sick with his threats" and should be "put in jail."
'Violence not the method': protesters rally in Grozny against #CharlieHebdo cartoons http://t.co/I4RSaC5ZCdpic.twitter.com/i20d2ZKJjh

— RT (@RT_com) January 19, 2015
Hundreds of thousands in the Chechen capital of Grozny participated in a rally against the publication of Prophet Mohammed cartoons by the Charlie Hebdo magazine shortly after the terrorist attacks in Paris.
The opposition has been skeptical of Islamist motives behind Nemtsov's murder.
Ilya Yashin, the co-leader of Nemtsov's liberal opposition party RPR-Parnas described the theory as "absurd."
"Nemtsov never said a bad word about Islam," Yashin wrote on Facebook. "He was absolutely tolerant in terms of religion. Of course, he criticized terrorists who killed the Charlie Hebdo journalists in Paris. But many public figures were louder and tougher in their criticisms."
The president of the Chechen Republic, Ramzan Kadyrov, earlier said he knew Zaur Dadaev "as a patriot of Russia," who used to serve as deputy regiment commander in one of the Chechen Republic's interior ministry units.
"Everyone who knows Zaur says that he is a profoundly religious man and that he, as all Muslims, was shocked by what Charlie did and by comments in support of the cartoons," Kadyrov wrote on Instagram.
READ MORE: Nemtsov murder: Russian investigators probing several possible motives
Boris Nemtsov, 55, who occupied senior government posts under President Boris Yeltsin and afterwards became an opposition leader, was shot dead on February 27 near the Moscow Kremlin. The assassination, which happened two days ahead of an opposition rally Nemtsov helped organize, triggered a flurry of condemnations and calls for a swift investigation.
Thousands of people across Russia joined marches in commemoration of the slain politician a week ago.
The Russian Investigative Committee earlier said that Nemtsov's stance on the Charlie Hebdo shootings was one of the things they were looking into as part of the investigation.
"There are reports that Nemtsov received threats due to his position over the shooting of Charlie Hebdo staff in Paris," Vladimir Markin, spokesman for the Investigative Committee, said in February.
Other possible reasons for Nemtsov's murder, according to investigators could range from a political provocation to his business activity or personal life.
You can share this story on social media: