Nemtsov murder: Russian investigators probing several possible motives
The assassination of opposition leader Boris Nemtsov in Moscow was well-planned, investigators said. Versions of the crime range from a political provocation to a revenge killing by radical Islamists.
READ MORE: Boris Nemtsov killed in Moscow LIVE UPDATES
"There is no doubt that this crime was carefully planned. The location and timing of the killing indicated that as well. The investigation found out that Boris Nemtsov was going with his female friend to his apartment, which is located close to the murder scene. The organizers and the executers apparently knew his route," Vladimir Markin, spokesman for the Investigative Committee, told journalists.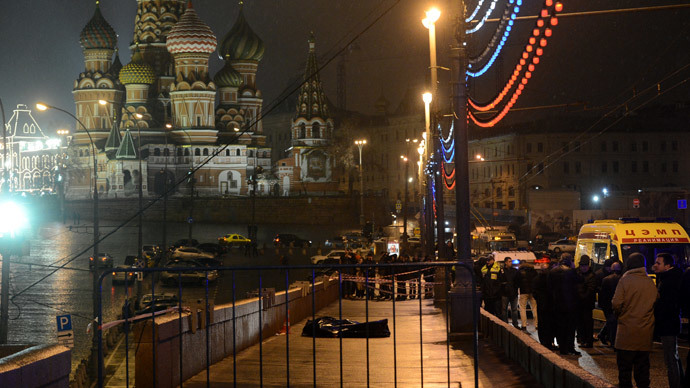 Markin said the best detectives and forensic experts are involved in the case, which is considered a top priority by law enforcement authorities.
READ MORE: Opposition politician Boris Nemtsov killed in the center of Moscow
Preliminary results show that the politician was killed from a Makarov pistol. Experts found six 9-mm cartridge cases at the scene, Markov said. The cartridges were produced by several different manufacturers, he added.
Floral tributes pour in for slain politician Boris Nemtsov: http://t.co/EtxQAlJ2eH LIVE: http://t.co/qzw2134Y1tpic.twitter.com/rjKd6lPTf4

— Ruptly (@Ruptly) February 28, 2015
At the moment the investigation is focused on questioning the eyewitnesses and studying mobile traffic data in the immediate area of the crime, which may provide an insight into communications of the criminals. Footage from CCTV cameras is also being studied.
The investigation is looking into five possible motives behind the high-profile assassination, Markin said.
"The murder could be a provocation to destabilize the political situation in the country. Nemtsov could have been chosen as a sort of 'sacral sacrifice' by those who don't hesitate to use any methods to reach their political goals," he said.
"There are reports that Nemtsov received threats due to his position over the shooting of Charlie Hebdo staff in Paris," Markin said, adding that a possible link to the Ukrainian civil war was also being investigated.
Boris #Nemtsov murder could be planned to 'destabilise' Russia - investigators http://t.co/D2Tec0NCVvpic.twitter.com/S7jbP99JZK

— RT (@RT_com) February 28, 2015
"It's no secret that both sides of that conflict have among their ranks very radical figures who take no orders from any authority," he said.
Other versions voiced by Markin involve Nemtsov's business interests and a possible assault related to his personal life.
Later in the day, the car allegedly used in the attack was discovered not far from the scene of the crime. Russian media reported that it had Ingushetian license plates.
READ MORE: Boris Nemtsov: From reformist wonder boy to disgruntled opposition leader
The Kremlin called on political commentators not to pressure the investigators.
"This is a top priority case now and it's important that the investigation produces results as soon as possible. Don't hamper their work, just be patient and wait," presidential spokesman Dmitry Peskov told Dozhd television.
President Vladimir Putin has himself pledged that the people behind this "despicable and cynical crime" will be held accountable.
Boris Nemtsov, a veteran opposition figure in Russia, was gunned down in a drive-by attack in central Moscow on Friday night. The murder triggered worldwide condemnation and calls to bring the killers to justice.
You can share this story on social media: