Opposition politician Boris Nemtsov killed in the center of Moscow
Famous Russian opposition politician Boris Nemtsov has been shot dead in the center of Moscow. The shots came from a vehicle. Reportedly, Nemtsov had previously received death threats on social media sites.
Boris Nemtsov killed in Moscow LIVE UPDATES
Nemtsov was shot four times in the center of Moscow at Vasilyevsky Spusk, a bridge leading to Red Square, according to police.
На Большом каменном мосту уже много журналистов pic.twitter.com/d9LJ4A0yDT

— Roman Dobrokhotov (@Dobrokhotov) February 27, 2015
A law enforcement source told Interfax news agency that a white vehicle approached Nemtsov, fired seven shots with four bullets hitting the politician in the back, and sped away.
Police later said there were three white cars on the bridge during the shooting, according to footage from street cameras. Two of them were later cleared of any link to the murder. Some witnesses said the car containing the suspects was without a license plate.
In the last couple of hours before the deadly shooting, Nemtsov had dinner at a restaurant inside GUM, the famous department store on Red Square, with the woman he was with when he was shot. She was later identified by police as Ukrainian model Anna Duritskaya, 23.
According to Duritskaya, the two then went for a walk at about 23:00 Moscow time (20:00 GMT).
"Nemtsov was walking on Bolshoy Moskvoretsky Bridge with a visitor from Ukraine. It was then when he was shot from a car that was passing by," said the ministry's official representative, Elena Alekseeva, as quoted by Rossiya 24 TV channel.
"The woman who was with him is currently being questioned in a police department," Alekseeva added.
Police said they believe the murder was planned well in advance.
"Nemtsov's route has been established. Someone apparently followed him from GUM and told the accomplices the [politician's] location," Tass reported citing a source.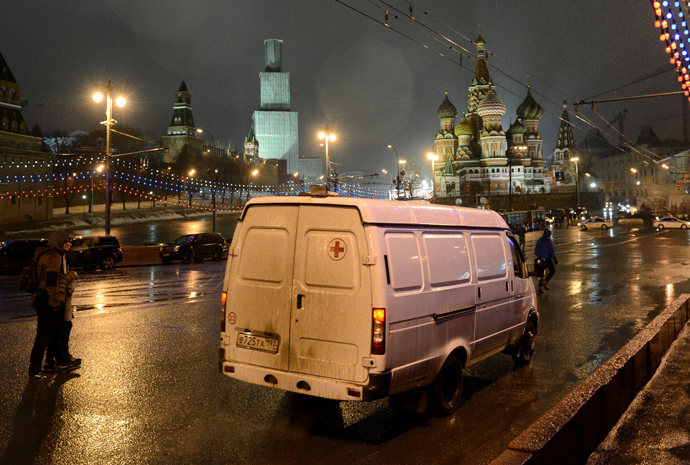 Nemtsov's family lawyer, Vadim Prohorov, said the politician began receiving various types of threats – including death threats – on social media sites a few months ago.
The politician's family members arrived at the crime scene early on Saturday. Interior Minister Vladimir Kolokoltsev spoke to them at the site. Television host and opposition activist Ksenia Sobchak was among those at the scene.
Before authorities could confirm Nemtsov's death, the politician's colleagues spoke out.
"Unfortunately, I'm currently looking at the body of Nemtsov," opposition leaders Ilya Yashin, confirmed to RIA Novosti. "I see the body, and a lot of police."
#Nemtsov was shot dead right in front of the Kremlin. A group of men in a car stopped in front of him and fired 4 shots

— Yury Barmin (@yurybarmin) February 27, 2015
Nemtsov, 55, has been in Russian politics for over two decades. He gained popularity as a governor to Nizhny Novgorod region, staying in the office from 1991 to 1997. He served as energy minister and deputy prime minister under former President Boris Yeltsin, while being regarded at some point as his successor. After 1998 he participated in the creation of several liberal movements and parties, serving as a Member of Parliament.
Since 2003 he was more involved in business than politics.
However, Nemtsov voiced opposition to President Vladimir Putin, criticizing the government and its policies. Since 2012, he had co-chaired the liberal party RPR-PARNAS (Republican Party of Russia – People's Freedom Party).
Nemtsov's assassination comes just one day ahead of the Vesna ("Spring") opposition rally slated for March 1 in Moscow.
Russian President Vladimir Putin was "immediately informed" about Nemtsov's assassination, presidential press secretary Dmitry Peskov told RT.
"Putin has stressed that this brutal murder has all [the] signs of a contract murder and is extremely provocative," Peskov said.
"The president has expressed his deep condolences to the family of tragically deceased Nemtsov."
Putin asked the heads of Russia's Investigative Committee, Interior Ministry and Federal Security Service to create an investigative group and to put the case under their personal supervision, Peskov addded.
Nikita Belyh, governor of the Kirov Region, said he was shocked to hear about Nemtsov's death and expressed his sincerest condolences to the politician's family.
"This is a nightmare. Boris Nemtsov was killed. I can't believe this, I talked to him just four hours ago – we laughed, reminisced about something," he wrote on his Twitter account.
Human Rights Watch representative Tanya Cooper called for a "thorough" and "unbiased" investigation into Nemtsov's murder, adding that police must consider all angles, including the victim's political career.
US President Barack Obama has condemned Nemtsov's death, describing it as a "brutal murder," the White House National Security Council said on Twitter. The council also called on Russia to conduct a "prompt, impartial and transparent investigation" and to "ensure those responsible are brought to justice."
You can share this story on social media: