'No political motive in Nemtsov assassination' - investigators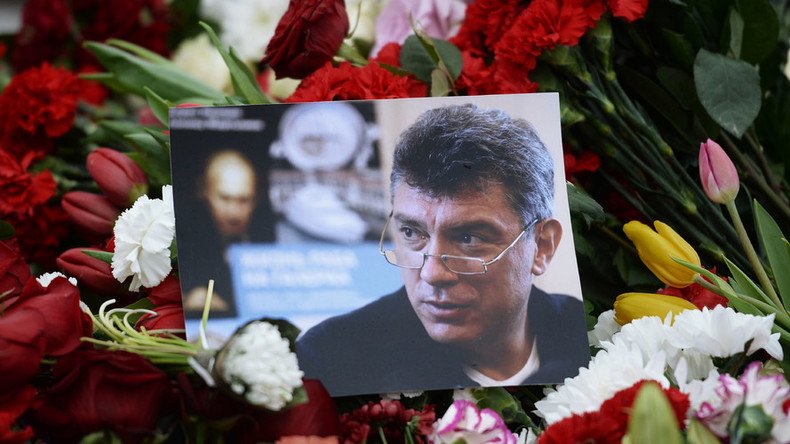 A court in Moscow has agreed with law enforcers' claim that they have not discovered any possible ties between the killing of prominent opposition figure Boris Nemtsov and his political activities.
"In the course of the investigation we have positively established that the killing of Nemtsov was not in any way connected with his work as a state official, politician or public activist," Interfax quoted an investigator as saying at the Friday session of a Moscow district court.
The statement was made as the court looked into the request from Nemtsov's relatives to requalify the case from 'murder' to 'the murder of a state official.' Nemtsov's relatives said that at the moment of the killing the victim occupied a seat in the Yaroslavl regional legislature and was co-chairman of the opposition bloc Parnas. Previously, Nemtsov had been a member of parliament, deputy prime minister, and a regional governor.
READ MORE: Prime suspect says Nemtsov killed over 'negative comments on Muslims' – report
Investigators told the court that according to the law, in order for the case to be requalified to the murder of a state official, the killing must have put an end to some official state function, which had not happened with Nemtsov.
The court agreed with the investigators and ruled not to satisfy the relatives' request to requalify the case into the murder of a state official.
Boris Nemtsov was shot dead while crossing the Bolshoy Moskvoretsky bridge, near the Moscow Kremlin, in February this year. The assassination prompted a thousands-strong march in the Russian capital, with demands to find and punish the killers.
President Putin personally promised in a public address that everything would be done to punish those responsible for the organization and execution of the murder.
In March, Russian law enforcers arrested five suspects in case, including two suspected hit men. One of them, Zaur Dadaev, has reportedly confessed his involvement in the murder and said it was revenge for Nemtsov's "negative comments on Muslims and Islam."
READ MORE: Nemtsov was no threat to Russian govt - presidential spokesperson
However, in subsequent developments, Dadaev insisted on his innocence and said he had taken the blame to save someone close to him. The other four suspects also denied any guilt.
The term of the preliminary investigation into the Nemtsov case expires on February 28, 2016. Russian mass media expect the probe to be completed in the last days of 2015 or at the very beginning of the coming year.
You can share this story on social media: