Nemtsov was no threat to Russian govt - presidential spokesperson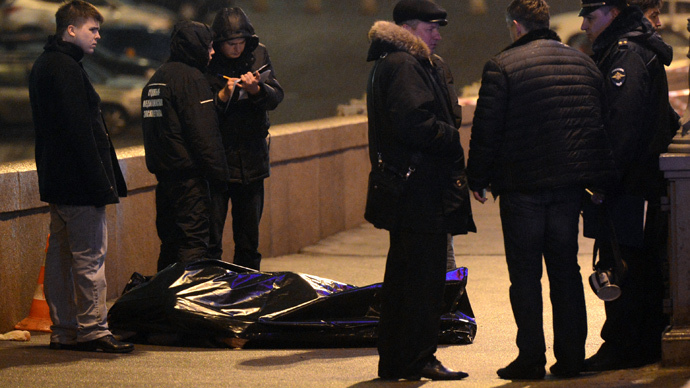 Boris Nemtsov did not pose a threat to the Russian government, according to presidential press secretary Dmitry Peskov. The murder of the Russian opposition figure has been called a "provocation" by a number of politicians and public figures.
Boris Nemtsov was killed Friday evening in the center of Moscow. A veteran of Russian politics, he was an influential figure in the 1990s and held the post of deputy prime minister under former President Boris Yeltsin. Though he had been more involved in business than politics since 2003, he was a critic of the Russian government.
READ MORE: Opposition politician Boris Nemtsov killed in the center of Moscow
"With all due respect to the memory of Boris Nemtsov, in political terms he did not pose any threat to the current Russian leadership or Vladimir Putin. If we compare popularity levels, Putin's and the government's ratings and so on, in general Boris Nemtsov was just a little bit more than an average citizen," Peskov said on Saturday.
Russian President Vladimir Putin has condemned the assassination and expressed his condolences to the family, Peskov added. "Putin has stressed that this brutal murder has all [the] signs of a contract murder and is extremely provocative."
Irina Khakamada, an opposition figure who was Nemtsov's ally in the SPS party (Union of Right Forces), called the murder a "provocation" aimed at destabilizing Russia.
"It is definitely not beneficial to Putin and it is aimed at destabilizing everything to tatters," she said.
Human Rights Watch representative Tanya Cooper called for a "thorough" and "unbiased" investigation into Nemtsov's murder, adding that police must consider all angles, including the victim's political career.
US President Barack Obama has condemned Nemtsov's death, describing it as a "brutal murder," the White House National Security Council said on Twitter. The council also called on Russia to conduct a "prompt, impartial and transparent investigation" and to "ensure those responsible are brought to justice."
Nemtsov was a real patriot, who believed in the possibility of Russia's greatness. I cry now both for his family & the country he so loved.

— Michael McFaul (@McFaul) February 27, 2015
US Secretary of State John Kerry said he was "shocked" when he found out about Nemtsov's death, and called on Russian authorities to investigate what happened.
"Nemtsov committed his life to a more democratic, prosperous, open Russia, and to strong relationships between Russia and its neighbors and partners, including the United States," Kerry stated.
The UK's Foreign Office said it will closely follow the developments of Nemtsov's murder investigation.
"We are shocked and saddened by news that former Russian deputy prime minister Boris Nemtsov has been shot and killed in Moscow. Our thoughts are with his family and we offer our condolences to them. We deplore this criminal act. Those responsible must be brought to justice. We will continue to follow the situation closely," a Foreign Office spokeswoman said.
Ukrainian President Petro Poroshenko called Nemtsov a friend and "a bridge between Ukraine and Russia." He said on Twitter that he is sure those responsible for Nemtsov's death will be found.
"Shocked. Boris was killed. Hard to believe this. I do not doubt that the murderers will be punished," Poroshenko said.
You can share this story on social media: