Investigators press murder conspiracy charges against Khodorkovsky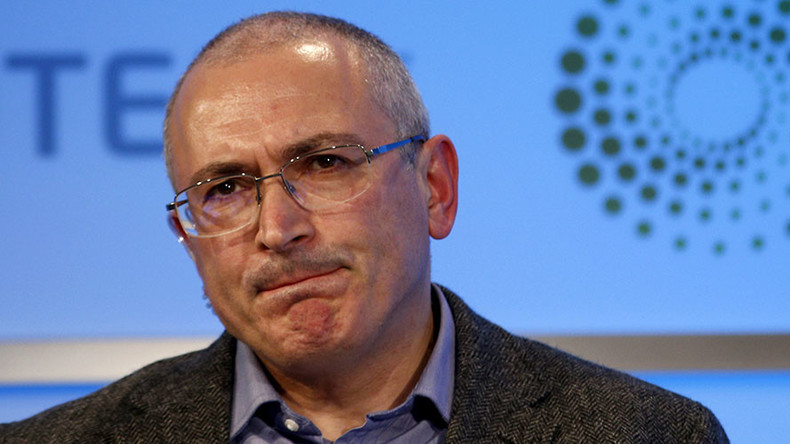 Russia's Investigative Committee has charged former oil tycoon Mikhail Khodorkovsky with ordering the assassination of a Siberian city mayor, as well as two other hits that were unsuccessful.
The charges were pressed in absentia as the former Khodorkovsky no longer lives in Russia and refused to appear before investigators.
Spokesman for the Investigative Committee, Vladimir Markin, told reporters on Friday that Khodorkovsky is suspected of putting out a contract on Vladimir Petukhov, the mayor of Neftyugansk and his bodyguard Vyacheslav Kokoshkin. The former boss of Yukos is also suspected of ordering attempted hits on Yevgeniy Rybin, the chief of East Petroleum. Petukhov was killed in 1998 and Kokoshkin was wounded in the attack. Rybin survived two assassination attempts in 1998 and 1999, but his bodyguard and two other people were killed.
READ MORE: 'Who killed my husband?' Khodorkovsky complicit in murder, widow's book claims

The spokesman said five primary suspects, including Yukos co-owner Leonid Nevzlin and head of Yukos' security department Aleksey Pichugin had already been tried and sentenced, but the probe into their crimes continued until 2015 because investigators wanted to reveal their accomplices of and primarily who ordered the hits.
These efforts yielded results and investigators "reliably established" that Mikhail Khodorkovsky was involved in these murders and attempted murders, according to Markin. The spokesman noted that the oil magnate had apparently "played an especially active role in all this," because "not a single important decision in Yukos was made without Khodorkovsky's command."
"According to the investigation, it was Yukos stakeholder and CEO Mikhail Khodorkovsky who ordered his subordinates Nevzlin and Pichugin to kill Petukhov and Rybin, whose official activities had come into conflict with Yukos interests," the spokesman said. He added it was obvious to the investigators that the crimes were motivated by material interests – the mayor wanted Yukos to stop evading taxes, while the Rybin had sued Yukos over material damages to his company.
"I want to assure you that the principle of not being able to evade punishment, which the Investigative Committee always prioritizes, will also work in this case," Markin said.
Earlier this week, Khodorkovsky posted a tweet with a summons addressed to him, but received by his father. It demanded the ex-tycoon appear at the Investigative Committee on Friday "for questioning as a suspect."
Khodorkovsky called the move "a boring attempt to change the subject" and assured his readers he had no intention of meeting the investigators.
READ MORE: Khodorkovsky faces new charges within 1998 assassination case – report
Khodorkovsky was arrested in October 2003, and in 2005 he was convicted of tax evasion and sentenced to nine years in prison. In 2009, Khodorkovsky was charged with embezzlement and money laundering. The second trial ended in late 2010 with a sentence of 14 extra years, minus the term he had already served. After another legal battle, the final ruling cut the sentence to 11 years. In December 2013, Khodorkovsky was pardoned by Putin and left Russia for Germany to visit his elderly mother.
In 2007, the former head of Yukos' security department Aleksey Pichugin was sentenced to life for organizing the 1998 killing of Vladimir Petukhov. In 2008, a Russian court ruled the killing had been ordered by a key Yukos shareholder and Khodorkovsky's personal friend Leonid Nevzlin, who was also sentenced to life in prison for his role. Nevzlin fled to Israel, which does not extradite criminals to Russia, and lives there to this day.
You can share this story on social media: