Call to reinstate death penalty for terrorism by Russian leftist leader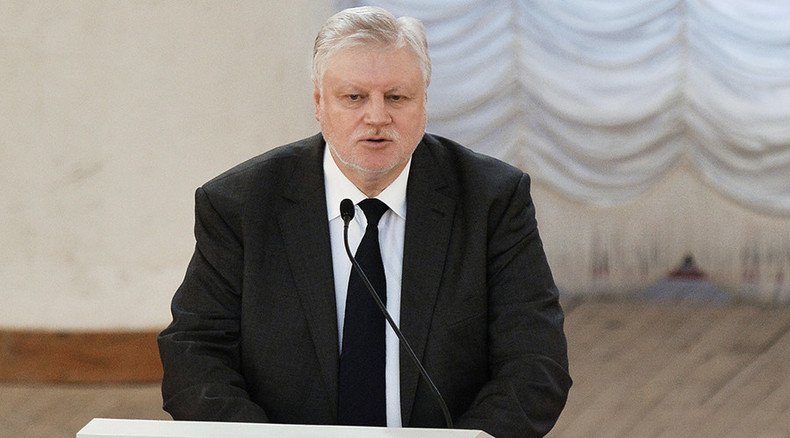 The head of the center-left parliamentary party Fair Russia has called for the abolition of the current moratorium on the death penalty, reserving it for convicted terrorists and their accomplices.
"As an exception we must introduce the death penalty as punishment for terrorists and aides who support the activities of fighters who commit terrorist attacks," Sergey Mironov said at the Friday joint session of the two Russian parliament chambers.
The audience met Mironov's proposal with an ovation.
READ MORE: Take no prisoners: Head of Russian region urges tougher stance in war against terror
Russia introduced a moratorium on the death penalty in 1999 when it was seeking membership in the Council of Europe. The Constitution still allows capital punishment for especially grave crimes and after a guilty verdict has been handed down by a jury court.
Many Russian politicians and officials have raised the issue of canceling the moratorium, especially after terrorist attacks or other brutal crimes that attract public attention. This already happened this month as MPs of the populist nationalist party LDPR proposed the introduction of the death penalty for terrorism in reply to the downing of the Russian A231 jet liner in Egypt. The Islamic State (IS, also known as ISIS and ISIL) terrorist group has claimed responsibility for the attack.
President Putin's press secretary Dmitry Peskov said in comments on Mironov's Friday initiative that the question was too complex, but for the moment the moratorium remains in place.
"This is an extremely complex issue. There are a lot of discussions taking place. The decision on the moratorium is in force in our country. This was a completely new proposal," Peskov told reporters.
READ MORE: No plans to return death penalty for terrorism – Russian lawmaker
According to an opinion poll in April, 60 percent of Russian citizens wouldn't object to a reintroduction of the death penalty. This is slightly lower than last year's 66 percent and significantly less than the 80 percent recorded in 2001.
You can share this story on social media: