No plans to return death penalty for terrorism – Russian lawmaker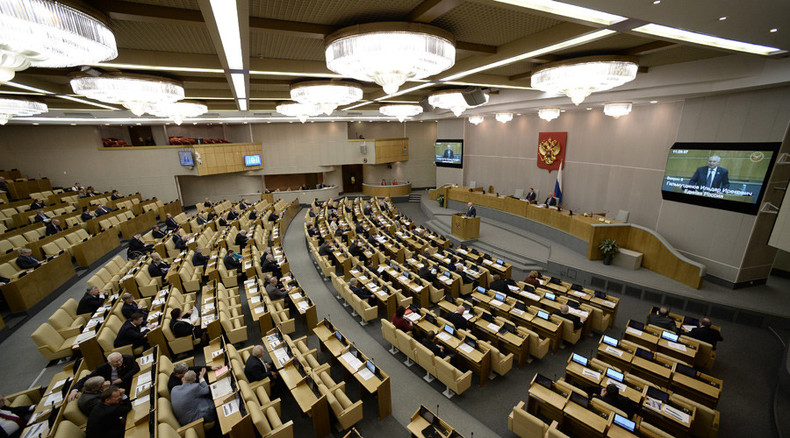 The State Duma is not considering overturning the death penalty moratorium, a member of the Lower House law committee has said in a television interview.
"At the present moment the issue of introducing the death penalty, including the death penalty for terrorism, is not being considered in Russia," MP Raphael Mardanshin (United Russia) told the Rossiya-24 TV channel.
The lawmaker added that he agreed additional counter-terrorist measures were needed, but the death penalty was not the best choice for this. "For terrorists it is often an honor to die while carrying out an attack. Therefore they can actually consider execution as a good thing," Mardashin said.
READ MORE: Most Russians still support return of capital punishment, poll shows
"When we use the measures that exist today, like prison sentences for life, it is more difficult for terrorists to contemplate the consequences of their actions for many years," the MP noted.
The comment came soon after the head of the Chechen Republic Ramzan Kadyrov again urged Russian authorities to introduce the death penalty for terrorism, claiming that keeping convicted extremists in prisons was too expensive and also that there was a threat that terrorists serving life sentences would recruit new supporters inside prisons.
Earlier this week a key member of the Communist caucus in the State Duma also proposed the death penalty for terrorists as an extraordinary measure and "a supreme measure of social protection," adding that it could help to bring down the threat of terrorism that could increase in connection with Russia's active participation in the operation against Islamic State in Syria.
READ MORE: Communist MP proposes reintroducing death penalty for terrorists
Russia introduced a moratorium on the death penalty in 1999 as it sought membership in the Council of Europe. The Constitution still allows it for especially grave crimes and after a guilty verdict by a jury court.
Several times top Russian law enforcement officials have suggested lifting the moratorium, and opinion polls show the majority of people would support it. In late 2013 an MP from the nationalist-populist LDPR party proposed to execute convicted terrorists, pedophiles and people who involve children in illegal drug use. The Lower House rejected the bill without considering it.