'West's main target in Syria is Assad, not ISIS' - Kadyrov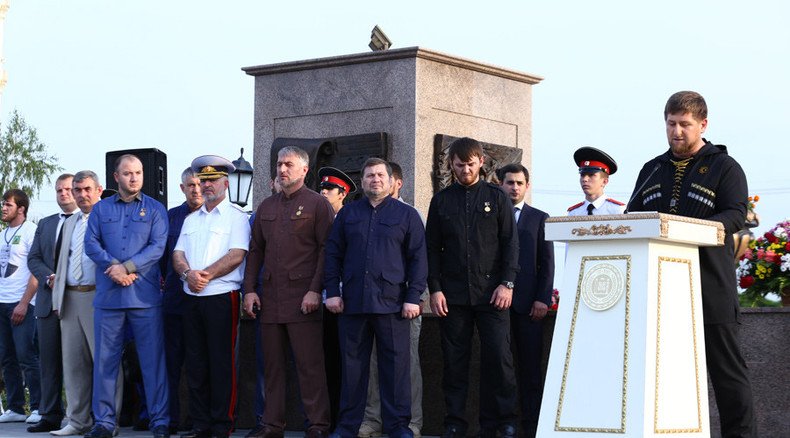 The US and the EU cannot bring peace to the Mideast because instead of real action against Islamic State terrorists they prefer to talk about their desire to displace Syrian President Assad, the head of the Chechen Republic has told reporters.
"Today there are no more doubts that the main target of the West is Assad and not the 'Iblis State' terrorist organization," Ramzan Kadyrov told reporters on Tuesday, using wording suggested by Russian Muslim scholars to describe the group that calls itself Islamic State (IS, formerly ISIS/ISIL).
"Since the start of the armed support of the Syrian opposition by the United States and Europe and the beginning of air strikes on ISIS, the peace process has not advanced even one millimeter. On the contrary, Western forces cause tens of thousands of young men from all over the world to come to Syria and Iraq," the Chechen leader added.
He especially emphasized the fact that it is common knowledge already that Islamic State finances its operations by selling oil extracted on captured territories, yet no one has tried to stop this trade.
READ MORE: Russian Muslims denounce ISIS as 'enemies of Islam'
"Therefore we have every reason to believe the coalition is assisting and strengthening 'Iblis State' directly or indirectly," Kadyrov told reporters.
He warned that every day of postponement could cause irreparable and tragic consequences, and said the only solution to the crisis was the coordination of an international anti-terrorist operation licensed by the Syrian government. The Chechen leader also said it was important to create an international foundation that would help the subsequent restoration of Syria.
Kadyrov also stated that in his view European bureaucrats were creating a show out of the recent sharp increase of the number of Syrian refugees. "In reality hundreds of thousands of refugees are cheap workforce for Western nations, where people are getting older and where men are marrying men. Ninety-nine percent of the refugees are children and young people who can pave the roads, work in factories and plant tulips."
In December 2014, Russia brandished the Islamic State group as a terrorist organization, outlawing membership or any support for it under threat of criminal prosecution. In addition, two major Russian Muslim groups issued fatwas against IS, announcing that all its members were enemies of Islam and called for their punishment as criminals.
This September, a senior officer of the Russian Federal Security Service urged more states to join the fight against Islamic State and promised political dialogue with all interested parties. "The cooperation exists but its level is insufficient, especially when it concerns the United States," General Sergey Smirnov said.
READ MORE: Federal Security Service calls for broader international anti-ISIS coalition
LISTEN MORE:
You can share this story on social media: