Russian Muslims denounce ISIS as 'enemies of Islam'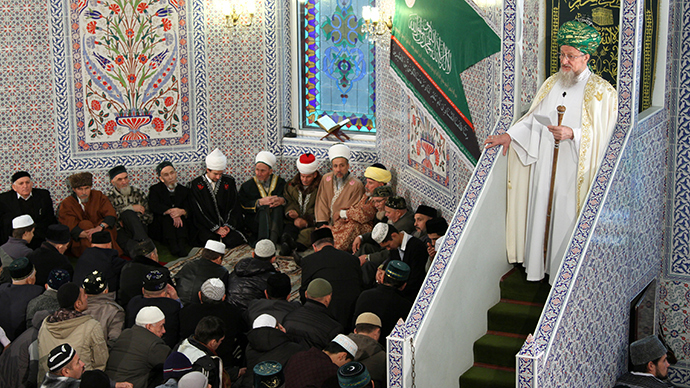 A major Russian Muslim group has issued a fatwa against the so-called Islamic State (IS, formerly ISIS/ISIL) reviling them as 'enemies of Islam' and calling for the punishment of all its members as criminals.
The Spiritual Directorate of Muslims of Russia published the text of the fatwa on its website on Tuesday.
"The members of the Ulama [Islamic scholars] council, on the basis of the Koran and Sunna and other legal sources, have shown and proved that all actions of the organization that calls itself "Islamic State" are contradicting Islam – starting from the creation of the group and calls for resettlement and finishing with their cruelty and public executions," the document reads.
"From the point of view of the Muslim canon the members of such criminal groups deserve either capital punishment or full lifelong isolation from the society," the Russian Muslim leaders stated. However, they noted in the fatwa that every suspect must be convicted by a court verdict that would fully exclude all doubts of his or hers complicity in violence, robberies and killings.
"The followers of ISIS are mistakenly interpreting Islam as the religion of brutality and cruelty, of violence, torture and killings of all discontent," the Russian Muslims stated. In reality, the basic principles of Islam forbid to kill civilians, prisoners and envoys – and journalists and workers of humanitarian missions can be described as the latter, they added.
Most importantly, the creation of a caliphate is only possible by approval of all Muslim communities and otherwise is considered a mutiny. "A single-sided declaration of caliphate would cause numerous competing caliphates to appear and this would cause strife and disagreement between Muslims," the fatwa reads.
READ MORE: All nations should recognize Islamic State as terrorists - Russia
In December last year, the Russian government listed the Islamic State and the Al-Nusra Front as terrorists, outlawing membership or any support for these organizations under threat of criminal prosecution. In addition, the Russian Foreign Ministry called upon all nations to recognize the two groups as terrorists, noting that such a step would be backed up by UN Security Council resolutions.
In March this year, the head of Russia's State Security Council, Nikolay Patrushev, called upon the international community to abandon double standards on terrorism and start fighting the threat in line with universally-recognized norms of international law.
Patrushev also told reporters that he and other Russian officials preferred to use the term 'Islamic State' in quotation marks to avoid insults to true Muslims who, in his view, had no relation to terrorists and extremists. For the same reason he called to refer to it by its original name – the Islamic State of Iraq and Levant, or ISIL.
You can share this story on social media: